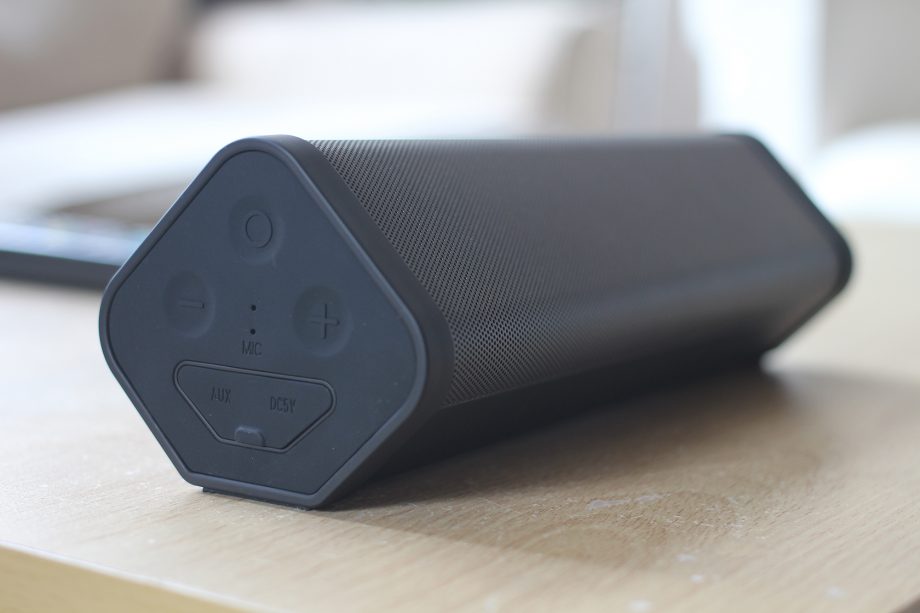 The KitSound BoomBar 2 is a simple variation of an idea which works well. The BoomBar 2 is a high-powered version of KitSound's successful BoomBar. As well as extra music power, there's a bass radiator to add more beefed-up 'boom', a choice of different playback angles to offer tonal variety, and 10 hours of uninterrupted music playback to keep the music rolling whilst the party's in full swing.
British-engineered sound
Dorset-based designers and audio engineers KitSound take their music, and their range of products very seriously indeed. In fact they believe that being both musicians and craftspeople gives them an important edge when it comes to developing products to produce 'pure, rich, incredible sound'. And because they 'settle for nothing less', they bring that same commitment to the audio equipment they design and build.
Innovative design
The KitSound BoomBar 2 is a functional sound boom with a twist. Its irregular pentagonal shape is designed to allow a choice of listening angles by providing two surfaces on which the speaker can rest, each producing a different angle of sound projection. With its monochrome design, the speaker has its two largest surfaces covered in a plain speaker grille, decorated at the 'front' only with a small logo in the lower right corner. All playback controls and connectors, plus a power switch, microphone and LED indicator, are located on the right side panel, as viewed from the front.
Onboard music power
This KitSound portable speaker has been revamped to deliver an audio performance more than twice as powerful as the specification of the original BoomBar, with much more detail. There are now two well-spaced 50-mm speaker drivers outputting full-spectrum audio, and a passive bass radiator to add character and presence to the bass frequencies. Thanks to its dual listening angles and speaker separation, the BoomBar2 audio is surprisingly fully featured with plenty of room-filling volume on board.
Convenient connectivity
The BoomBar2 has all the connectivity options expected of a modern portable speaker: wireless audio streaming via Bluetooth 2.1 with A2DP and AVRCP protocols, an aux input for cabled connection to non-Bluetooth music devices, and an onboard microphone for hands-free calls when you're in the middle of listening to your favourite tracks.
Main Features:
Bluetooth V2.1 A2DP, AVRCP.
Bluetooth range: up to 10 metres.
Frequency response: 60 Hz – 20 kHz
Audio output RMS: 2 x 5 watts @ 2 ohms.
Passive bass radiator
Speaker Drivers: 2 x 50 mm.
Rechargeable lithium-ion battery.
10 hours music playback.
Built-in microphone.
Kitsound Portable Speaker review
OK, this Bluetooth speaker is very thin and compact, and bearing that in mind, the audio quality is very good, though, of course, it's not large enough to get bass on a KitSound Boomdock scale. Including a carry case is a nice touch – really essential with a travel speaker, and a good place to store cables and other accessories. I notice the battery is removable, which is also helpful should it ever need replacing, and 10 hours is a very respectable playback time. Bluetooth pairing is really easy, and I use the BoomBar 2 with my smartphone and often log on to Internet radio. A great little speaker at a great price.