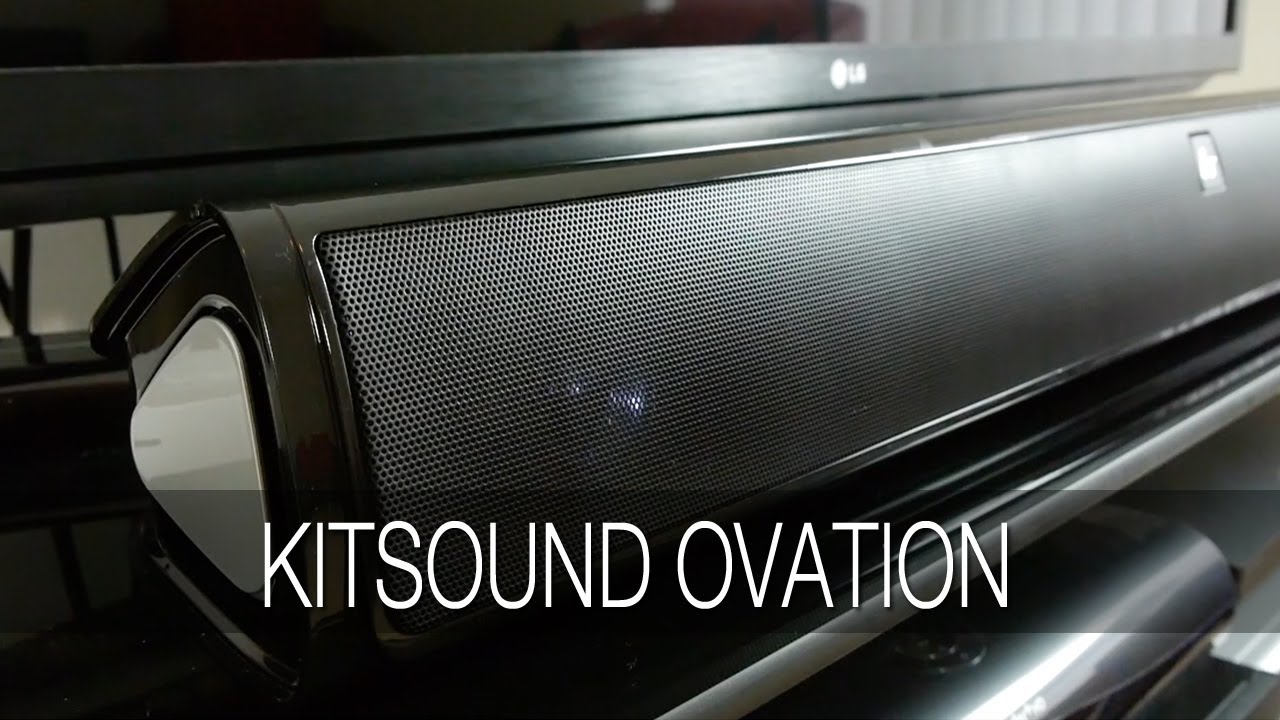 The KitSound Ovation slim soundbar will help you create your own lounge cinema setup, or, if a full-on nightclub multimedia ambiance is more your scene, it'll do that too. In each case, the KitSound Ovation slim unit provides the key component – room-filling sound at a price you can't ignore.
Slim, Stylish and Elegant
Unlike more traditional multi-speaker setups which are generally cumbersome and obtrusive, the KitSound Ovation slim soundbar is a discreet and elegant multimedia solution which also offers a handy wall-mounting option. Finished in a piano-black gloss which beautifully complements other media devices, the KitSound Ovation slim unit also features a stylish front-speaker grille, fashioned from a fine metal mesh.
Virtual surround sound
Employing KitSound's clever audio manipulation – via rapid digital sound processing – the KitSound Ovation slim soundbar creates an amazing virtual surround sound environment. Relying principally on spatial time-delay effects, the KitSound Ovation slim unit generates room-filling sound, thus avoiding the need for bulky and complex multi-speaker systems. A bass reflex system boosts low-frequency sound, further enhancing the Ovation's audio performance.
Media connectivity options
Offering comprehensive connectivity, as feature-rich multimedia systems demand, the KitSound Ovation slim soundbar has Bluetooth for wireless connection, high-quality optical digital-audio connections, aux-in audio inputs, and HDMI in/out options. This array of options guarantees the Ovation is able to cope with the full spectrum of multimedia formats.
Alternative listening options
The KitSound Ovation review model features three alternative audio configurations. The 'music' setting employs the Ovation's full audio-enhancing options, whilst the 'movie' setting scales things back a little – so your sound won't dominate the visuals – and the 'night' setting is even more discreet, to facilitate late-night listening.
Main Features:
Virtual surround sound.
Three sound presets: Music, Night and Movie.
Output: 60 watts.
Built-in subwoofer.
Speaker magnets: NdFeB
Frequency response: 30 Hz – 20 kHz
Bluetooth: 10-metre range.
Aux-in: 3.5 mm x 2
Optical inputs: 1
HDMI inputs: 2
HDMI outputs: 1
KitSound Ovation review
I spent many hours researching sound-bar options. Many sound bars were just too wide, and older models offered poor connectivity. Moreover, a lack of treble and bass controllability seemed to emerge as a common theme. For me, treble and bass controls are a must. Then, I read a KitSound Ovation review and discovered it has got treble and bass controls and some good connection options besides. Installation took about 10 minutes, and the sound is great – much better than PC speakers and TV sound. The bass is now really punchy, something I've not experienced before with TV, and the overall sound is broader and richer.
TV speakers just give you the voices, but the Ovation is going to be much better with films – bullets, rumbles, explosions etc. Plain music was a stunning surprise with plenty of volume and a nice punchy bass. Three buttons give Music, Movie & Night settings. Music sounds very rounded, with plenty of bass – a great improvement. Night tends to filter out the bass sounds, so it's a good late-night option. And Movie mode, well, that's more expansive for movies. The Ovation is all I was hoping it would be. Nice one, KitSound!