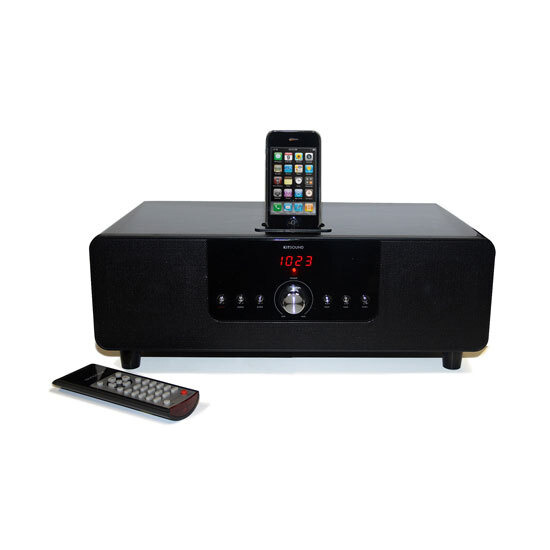 Kitsound Boom Dock Review
The KitSound BoomDock docking station outputs a big, bold sound worthy of its name and way beyond the resources of its rivals. Boasting plenty of audio firepower, this impressive box of tricks delivers all the pumping bass you could ever ask for, and has some Hi-Fi finesse and convenient functionality aboard too.
KS craftspeople and musicians
UK-based KitSound bring more than just manufacturing know-how to their products. Since their 2007 launch of the X3SPK speaker they've been continuously fine-tuning their products to 'showcase your music at its best'. KS put more than just technical excellence into their products, they're also musicians, and music fans too. The company is committed to developing 'pure, rich, incredible sound' and 'bringing people closer to their music'.
Soundcrafted
The KitSound BoomDock docking station is pleasingly old-school in its design and construction. Its rugged cabinet is hand-built and deliberately made from finely crafted wood rather than plastic, allowing the KitSound BoomDock to take full advantage of wood's superior audio-enhancing qualities. The retro-chic design has a neat look with clean lines and features a plain front consisting of a perforated speaker grille and an understated central control panel which includes a LED display. An aesthetically pleasing sleek finish is achieved by creating a smooth gloss texture formed by applying seven piano-black coats of paint, giving the KitSound BoomDock cabinet a high-end audio look.
Peak performer
Capable of nightclub-level volume, the KitSound BoomDock docking station brings you megabass tones you can feel as well as hear. Its on-board speaker configuration ensures the KitSound BoomDock delivers maximum clarity across the audio spectrum, and thanks to the use of aluminium speaker cones, your music will not suffer distortion even at the loudest volumes.
Refilling station and more
A simple way to recharge all your Apple devices, the KitSound BoomDock docking station is also a fully functioning alarm clock, and features an AM/FM radio too. Added to that, the KitSound Boom Dock review model has stereo audio inputs for easy connection of TVs and similar audio-visual equipment.
Main Features:
High fidelity 2.1 system with tone adjustment.
Powerful speaker output: 1 x 22 watts, 2 x 16 watts.
Speaker drivers: 2.5″ paper cone/aluminium voice coil x 2 + 5.25″.
Frequency response: 40 Hz-20K Hz.
Apple connector (30-pin): charges Apple devices.
AM/FM radio & clock (LED display) + alarm function.
Remote control: multi function – includes iPod controls.
Aux input: 2 x phono for A/V connectivity.
Dimensions: H150 mm x W420 mm x D290 mm.
Weight: 7.2 kg.
KitSound Boom Dock review
Well, I've been after some kind of docking system for ages and I found this unknown name online. Thanks for the KitSound Boom Dock review guys, without it I wouldn't have discovered this amazing sound system. I've always been a separates fan – nothing else but amp+speakers+CD, but things have changed with the KitSound. Don't get me wrong, I still have separates but I just can't believe how good this built-in docking speaker has turned out. You can wake your neighbours with the volume; the bass is floor-shaking, and the treble sounds brilliantly clear.
I'm convinced this is one of the market's best iPod speaker docks at the moment, according to my ears. Lots of speakers struggle, either because they lack clarity or volume – the BoomDock's got both. The volume range goes from a whisper to a roar – standing next to it, I couldn't use the max setting. When my mate gave it a go, objects danced across the bookcase and it shook the windows! You'll love the BoomDock if you like loud music, it's nice to hear music rather than background noise.