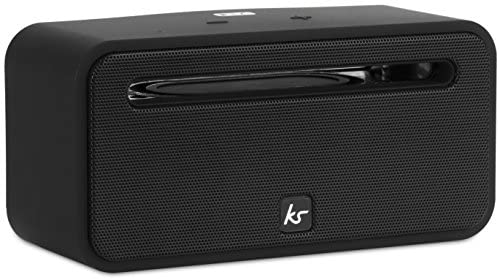 The KitSound Ignite is a handsome, British-engineered Bluetooth speaker with audio class to match its good looks. Delivering sound playback of uncompromising quality despite its ultra-compact size, the KitSound Bluetooth speaker also provides the fully featured compatibility today's music fans demand, and has call and conferencing functions too.
British-engineered audio
UK audio company KitSound, based in Dorset, have a dedicated team of craftspeople and technicians working on their products. Many of these are also musicians, and all share the KitSound commitment to 'bringing people closer to their music' – a shared goal which drives the company's quest for 'pure, rich, incredible sound'. Despite their determination to settle for nothing less than the highest audio standards, KitSound are nevertheless still resolved to keep their products affordable as well as popular with consumers.
Stunning sound performance
Though the KitSound Ignite measures a mere 150 mm L x 74 mm H x 60 mm D, it nevertheless outputs full-featured audio. Thanks to its two 40-mm full-spectrum speaker drivers, sophisticated digital signal processing and passive bass radiator, the Ignite offers remarkable audio clarity with a full-throated bass response together with a warm mid-range and a crisp treble register.
Ultra-connectable
As is required from contemporary wireless speakers, the KitSound Bluetooth speaker offers full Bluetooth compatibility with Windows, Android and Apple mobile audio devices.In addition, the Ignite's aux-input provides a 3.5 mm stereo line-in connection for non-Bluetooth audio devices. Thus, as well as phones, music can be streamed from tablets, computers, and MP3 players, and, whenever the occasion demands, the Ignite also functions as a one-touch speakerphone with a conferencing feature.
Stereo soundstage
With the KitSound Bluetooth speaker, two units can be linked together to create full-stereo playback. When two Ignite wireless speakers are paired together via Bluetooth, one speaker handles left-channel audio data, whilst the other handles audio signals from the right, allowing listeners to enjoy high-quality audio right across the full stereo soundstage.
Main Features:
Speaker Output: 3 watts x 2 @ 4 ohm.
Frequency response: 50 Hz – 18 kHz.
Sound-to-Noise: 80 dB.
Speaker magnet: NdFeB.
Passive radiator for bass enhancement.
Bluetooth: v2.1 (range 10 metres).
Aux-input: 3.5 mm stereo.
Rechargeable Lithium-ion battery.
Talk time/Playback: up to 10 hours.
Hands-free call function.
L/R stereo pairing: true stereo sound via two linked Ignites.
KitSound Ignite review
I bought this speaker full of great expectations, having read the KitSound Ignite review, and I was not let down. The packaging is on par with, if not an improvement on, what the speaker-giants supply. The protective nylon bag with its KitSound logo seems to be splash-proof. KitSound's Ignite seems to carry on from where the Hive finishes: thanks to the graphite backing it now has a smooth finish, there's a retro front-speaker grille, and the design lets you catch a glimpse of its passive radiators.
The Ignite's connections are neatly centred on the back, and the three touch buttons on the top are very responsive in use. Also on top, the mic is great for hands-free calls – I had a full conversation and the caller was unaware I was using a bluetooth speaker. A jazzy sound tone greets you when the Ignite is first switched on. The Bluetooth starts direct from power up, or when play is pressed – either choice pairs quickly and it remembers six devices (very handy). In the sound department, the Ignite certainly holds its own. The bass is strong and uncompromising; the mid-range gives colour and depth, whilst the highs are magnificent to the point of almost outshining the bass. Five stars for the Ignite with its giant-killer sound.