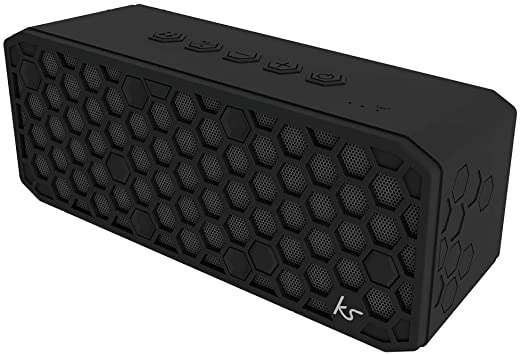 The Kitsound Hive Bluetooth speaker delivers excellent audio quality via its powerful digital amplifier, and incorporates a passive radiator to produce a rich, full bass to enhance the playback quality of any style of music. This Hive wireless speaker is well-built and designed to resist occasional knocks and over-enthusiastic treatment.
The Hive is fully compatible with Bluetooth devices and thus connects easily with Android, Apple and Windows audio products. If you are in the market for a low-cost Bluetooth speaker with a respectable sound, then the KitSound Hive review speaker is for you.
Hive construction
The Kitsound Hive Bluetooth speaker has a distinctive, upbeat honeycomb design and comes in black, blue, red, white, and purple alternative versions. Measuring just 49 mm deep, 165 mm long, and 64 mm tall, and weighing only 400 grams, the Hive wireless speaker is clearly designed as a portable audio solution. The build quality is good, and the Hive also has its own carry pouch offering further protection.
Sweet sounds from the Hive
KS, manufacturers of the Hive wireless speaker, believe that 'listening to your music on a small speaker shouldn't mean you have to compromise on sound'. True to their word, the Kitsound Hive
Bluetooth speaker, which features digital sound-processing, delivers excellent sound quality. Active speaker drivers deliver full-spectrum audio clarity, whilst a passive bass radiator pumps remarkable enhanced bass
frequencies, giving your music a rich quality and a big sound.
Ultra-connectable
Portable audio is all about flexibility and music sharing, and the Kitsound Hive Bluetooth speaker handles both requirements with ease. Not only is The Hive fully compatible with Windows, Android and Apple operating systems and audio devices via the Bluetooth 2.1 protocol, but it also comes equipped with a 3.5 mm audio cable for aux/line-input connectivity. This means you can still listen to music via non-Bluetooth MP3 players and older devices.
Marathon playback
The KitSound Hive speaker's rechargeable battery boasts an amazing 10 hours music playback time – so party-time won't be compromised – and you can stretch this even more by using the supplied USB charging cable.
Main Features:
Connections: 3.5 mm stereo jack, Bluetooth wireless.
Bluetooth: v2.1
Bluetooth range: up to 10 metres.
Playback time: up to 10 hours.
Output: 2.5 watts x 2 @ 4 ohms.
Aux-input: 3.5 mm stereo jack.
Unit size: D49 mm x H64 mm x W165 mm.
Unit weight: 400 g.
Included: USB charging cable, carry pouch, 3.5 mm audio cable.
Kitsound Hive User review
In all honesty, I was most pleasantly surprised when I tried this Bluetooth speaker out. I had tested some of the other alternatives and can honestly say that, even though the Bose had a richer bass response, I couldn't really justify the price, and the rest just didn't really offer anything extra. This is perfect.
I Bluetoothed to it from my phone and the sound was off the chart – amazing for something as small and lightweight as this device is. It can hold a charge for an incredible 8-10 hours. For anyone looking for a budget portable bluetooth speaker and not having to worry about dropping it, this is a great choice. Just try it, and be amazed like I was.