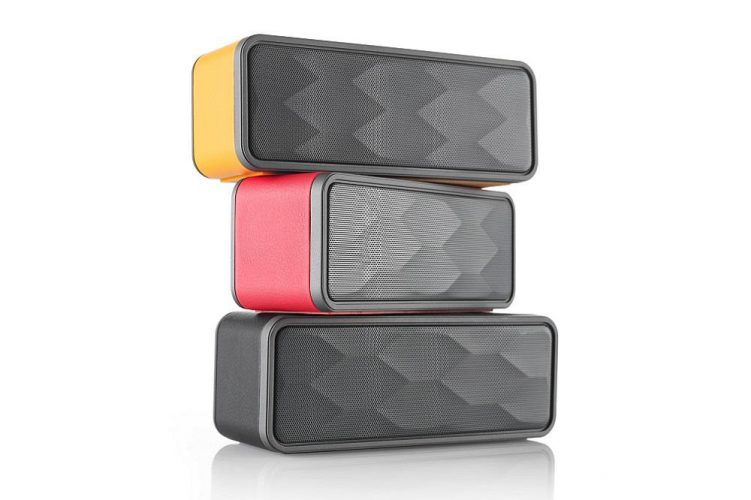 Wireless audio technology has come a long way – tracing its roots from the boom box to the speaker dock, the wireless speaker now allows people to stream and listen to music from their digital devices.
Thanks to technology, you now have a lot of wireless speakers to choose from and truth to tell, making a decision about which speaker to get is tough.
To help you make a decision, we have drafted a guide to help you wade through the noise so you can really focus on what you want and need in a wireless speaker.
Wireless technology includes many forms: Wi-Fi, Airplay, NFC, Multiroom, DLNA and our favorite, Bluetooth. Since the information about all these technologies is a lot to take in, we will just zero in on Bluetooth.
Bluetooth Technology for Speakers
For most people, Bluetooth is the ideal wireless technology, probably because second to Wi-Fi, it is the most popular.
You might remember the old days when Bluetooth was a fairly new technology and you would often give that guy on the checkout line an annoyed look because why in the world is he wearing that ugly headset with the flashing light and talking to himself like some crazy person.
But Bluetooth has since developed into a technology that almost everyone now enjoys. Almost every digital device and computer is programmed with Bluetooth chips, which allow for transmission of data without the need for cables and wires.
Even if it works only within 30 to 100 feet, Bluetooth is a very effective and easy way of connecting two devices. It comes as no surprise, therefore, that Bluetooth has been chosen as a technology for streaming music and other kinds of audio.
Tips in Choosing the Best Big Bluetooth Speakers
Deciding on the speaker to get is very tough, not just because there are many brands to choose from, but also because these brands offer various features that appeal to the general masses.
We have put together a list of the most important considerations you should look at when choosing the Bluetooth speaker that's right for you:
Amplification and volume
How loud is loud? One of the things you want to look at in choosing a speaker is its volume. While small and lightweight speakers are ideal for traveling, they might not fulfill the volume requirements you are looking for.
You might want to look for big Bluetooth speakers, or maybe you don't. What you need is to strike a balance between the size you want and the amplification the speaker delivers.
Don't despair; with the wide range of Bluetooth speakers available in the market, we are sure you will find the right one for you.
Powerful Bluetooth connection
Of course, you want a speaker that will seamlessly connect with your Bluetooth-enabled digital gadget or music player. You will want to look for a speaker that delivers powerful connection in a longer range.
Most speakers can stream audio from around 30 feet, but there are also more powerful ones that are able to play music even from a source that is 100 feet away.
Battery power
It goes without saying that you need a Bluetooth speaker that has long battery life. No matter how good the sound it produces or how fast it connects, your speaker will not be able to function properly without power.
So choose a speaker that is powered by a Lithium-Ion battery, which can give you continuous music for up to 12 hours.
Sound quality
Look for the speaker that would impress you, one that would play deep bass and rich mid ranges and perfect highs. While Bluetooth is known to diminish sound quality, a good speaker will be able to play amazing music that is vibrant, crisp and clear.
Watch out for speakers that sound excellent at 50% of their volume or lower, but distorted once cranked up.
The smarts
What wouldn't you give to have a Bluetooth speaker that does not just give you excellent music but is smart and intuitive as well?
While there are only a few brands and varieties that can be called smart as of the moment, it will not be long till the rest of the market jumps in and starts turning their Bluetooth speakers into machines that can tell the weather, help you shop online, or keep tab of the scores of your favorite sports teams.
There is the kitchen portable type, the patio portable type or the mountain hiking portable type. Whatever kind of speaker you need, you must bear in mind that the smaller the speaker, the more bearing it would have on the sound.
So if you do not want to compromise quality, you might want to invest in something that is solid and hefty. Otherwise, you can easily settle on a Bluetooth speaker that you can take anywhere at anytime you choose.
Yes, you want a portable speaker so you go and get a portable speaker. However, your portable Bluetooth speaker also needs to be tough and durable, which is why you must also consider how rugged the speaker is.
The world is a dangerous place, with its rocky terrain and concrete pavements, its sandy beaches and its wet and wild rivers. Your speaker can even be in danger even if you are just having barbecues and beer on a sunny afternoon in your backyard.
Therefore, you must look for a Bluetooth speaker that has a high Ingress Protection rating to make sure that it is safe against dirt, debris, sand, water and yes, even beer spills.