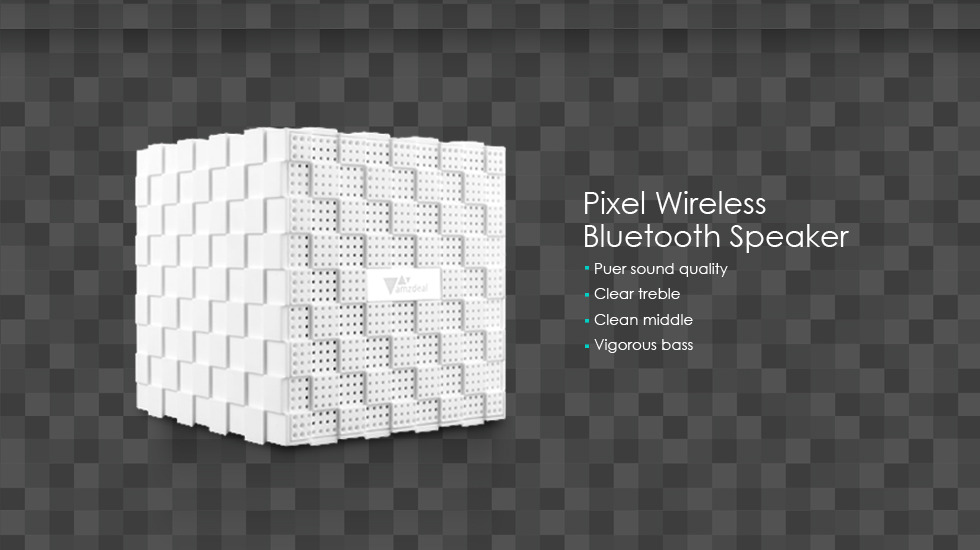 Amzdeal Pixel Style Rechargeable Bluetooth Speaker
The Amzdeal Pixel Style Bluetooth speaker has been designed to be special and stand out from the crowd. Amzdeal says this speaker was designed 'when artists met engineers' – if so, they've certainly packed a host of ideas and features into this tiny audio cube.
There's almost non-stop music playback, comprehensive wireless Bluetooth 4.0 compatibility, aux-input for full audio connectivity, and support for hands-free calls, all available in an ultra-portable package. With enough features on board to make it one of the best Bluetooth speaker under £20, this Amzdeal Pixel is sure to gain a lot of fans.
Cool Cube
With its strong geometric design, the Amzdeal Pixel Style Bluetooth speaker is sure to grab audio and visual attention in equal measure. The Amzdeal Pixel is a minimalist audio cube where each surface is embossed with an attractive pattern of smaller pixel squares. Available in either black or white versions, the front face of the speaker bears just the pattern and a centred Amzdeal logo. A control surface is built into the top of the cube where playback and selector functions are allocated their own pixel-style control buttons. An audio input and micro-USB charging-socket are tucked away neatly at the rear.
Multiplay options
The Amzdeal Pixel speaker offers not only a Bluetooth wireless audio streaming option, but also a 3.5 mm stereo audio connection via its (included) audio cable for playback of MP3 and similar non-Bluetooth devices and NFC functionality for compatible devices as well. Whichever option you choose, this mighty audio midget delivers a sound output of 10 watts at very good audio quality. Bearing in mind the small size of the speaker, moderate volumes give best results, and careful positioning to take advantage of reflected sound further enhances audio quality.
Non-stop music
At normal volume levels, the Amzdeal Pixel provides a simply amazing 14-16 hours playback from just one charge of its built-in Lithium-ion battery. This feature alone makes this speaker a versatile choice for reliable portable playback in any indoor, or outdoor, location.
Connectivity suite
Featuring audio streaming via Bluetooth 4.0, the Amzdeal Pixel is compatible with a broad range of Android, iOS, tablet, laptop and PC audio devices and formats. In addition, an aux-input provides a reliable alternative for music playback from non-Bluetooth audio devices to meet just about all of your music playback needs. With a built-in microphone available too for hands-free calls, the feature-rich Amzdeal Pixel has got to be one of the best Bluetooth speaker you can buy under £20.
Main Features:
Bluetooth 4.0 wireless connectivity.
Bluetooth range: 10 metres.
NFC connectivity function for compatible smartphones.
Audio output: 10 watts.
Aux input for non-Bluetooth audio-cable connection.
Hands-free calls via built-in microphone.
Playback: 14-16 hours (normal volume), 8 hours (max. volume).
Rechargeable Lithium-ion battery.
Amzdeal Pixel review
This Amzdeal Pixel Style Bluetooth speaker has its own individual look. Basically it's a cube made from rubber-type material fashioned into a square with 3.5-inch edges. The 'face' of each cube is embossed with its own pattern of smaller squares. On the top, the unit has large, easily accessible control buttons for volume/track/forward/back/pause, with a rear-mounted micro-USB socket and audio line-in input. Overall, this 'audio box' has a quirky appeal and feels like a quality product. It comes enclosed in a fancy gift box along with an audio cable, instructions, and a micro-USB lead used for charging, which takes around three hours.
My speaker lasts for an amazing 15 hours of playback and you can charge the unit from virtually any USB source. Bluetooth pairing is remarkably easy, especially if yours is an NFC smartphone, there's no passcode and a robot voice confirms when you're hooked up. So far, I've successfully paired this speaker with a laptop, Windows 7 PC, iPad 3, and various Android smartphones. Though this speaker won't rattle your windows, the sound is good for its size. Moderate volume gives the best listening, and the hands-free phone calls on-the-hoof feature works great. Recommended.
Amzdeal Pixel Style Rechargeable Bluetooth Speaker