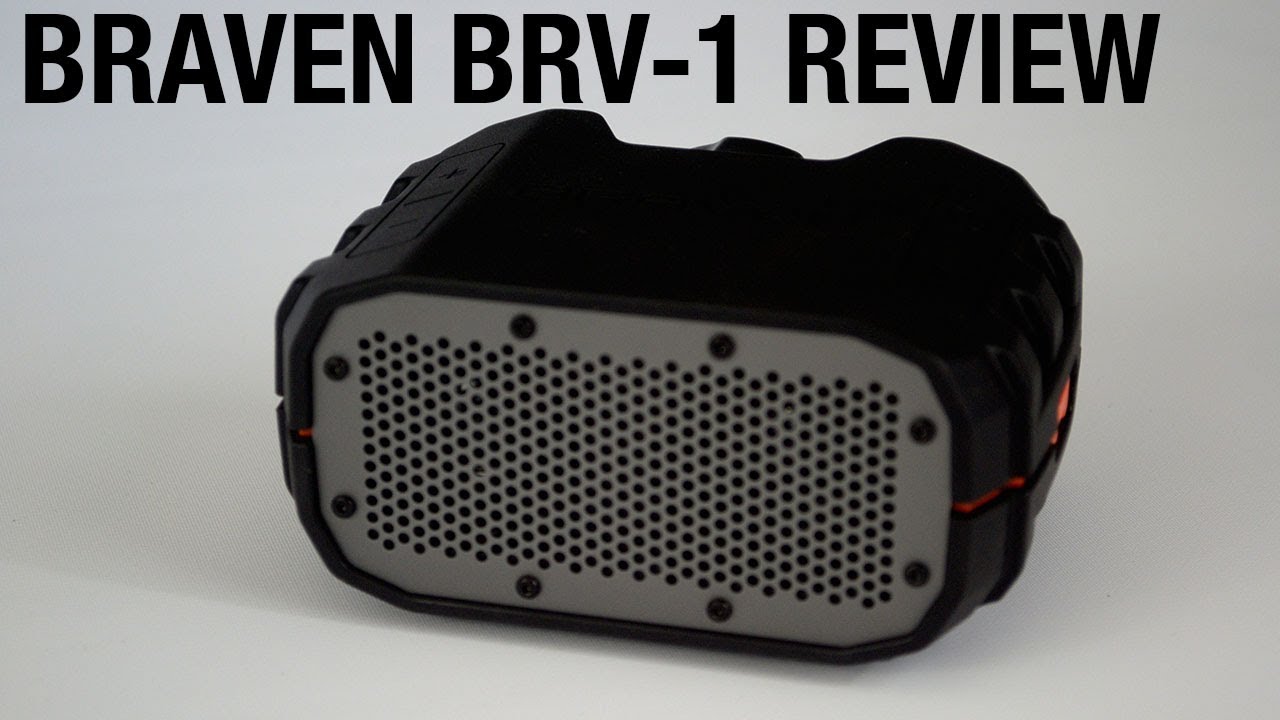 Braven BRV-1 Waterproof Bluetooth Speaker review
With the Braven BRV-1 Portable Bluetooth Speaker, whenever and wherever you travel, you can also take your music along. So you can rely on this waterproof Bluetooth speaker to take the rough with the smooth and still keep the show on the road. And when you're finally ready to wind down, it's got enough style and sophisticated features to look equally good indoors too. Just ask yourself: 'Are you ready to Braven your world?'
Rugged appeal
The compact Braven BRV-1 looks like a portable speaker wrapped in its own ultra-stylish rubberised flight case, and is never going to be just another low-profile accessory. A conventional plain speaker grille protects the speaker drivers at the front of the cabinet, whilst a large protective screw-cap encloses the connector ports at the rear. A further grid at the bottom protects the downward-firing bass radiator, and a simple, easy-access push-control interface is positioned on the top panel. The perfect design for all kinds of active outdoor use, the BRV-1 nevertheless still manages to compete with its rivals on the strength of its feature set alone.
Audio finesse
In terms of performance acoustics, the Braven BRV-1 review model performs reliably. The audio is well-rounded right across the range with a nice treble clarity and a decent midrange. The onboard bass radiator helps to add some welcome weight and definition to the lower end, though a speaker this size is not really what you're going to need for drum 'n' bass grooves. With the BRV-1 the best distortion-free audio is usually achieved with the volume backed off to give a little performance 'headroom'. So, provided you're not expecting top-of-the-range audio thump, the outdoor-friendly BVR-1 should serve your needs surprisingly well.
In-depth connectivity
In keeping with its practical exterior, the Braven BRV-1 is also well-laden with features and functions. Its generous playback time of 12 hours is very user-friendly, as is the ability of this waterproof Bluetooth speaker to charge other mobile devices. Bluetooth 3.0, with an A2DP profile, helps to give quick Bluetooth pairing, good quality audio streaming, and access to the latest features on newer smartphones and tablets. Older, non-Bluetooth audio devices can use a cabled connection via the aux input, and there's also a hands-free speakerphone facility for keeping up with your calls.
Main Features:
Music power: 2 x 3 watts.
Speaker configuration: 1 x 70mm bass radiator, 2 x 40mm full range drivers.
Bluetooth 3.0, A2DP profile.
Bluetooth range: 10 metres.
IXP7 water-resistance rating.
Rechargeable battery (lithium-ion).
Playback time:12 hours.
External device charging.
Built-in noise-cancelling microphone for hands-free calls.
Aux-input: 3.5-mm stereo jack.
Braven BRV-1 review
Even though it's rugged, tough and water-resistant, this is a handsome-looking portable speaker which seems substantial and very well put together. It's a decent size without being too big, and the battery charge lasts all through the day with ease: down on the beach in the day playing tunes and charging up my smartphone all at the same time, then back home in the evening chilling out with friends – very handy indeed. My phone pairs immediately without a fuss and no hint of dropouts, and even tells me how much juice is left in the battery! This BRV-1 has got a well-balanced sound – good clarity on treble with some bass too and definitely not thin and piercing. A great little speaker to own, and very easy to recommend.