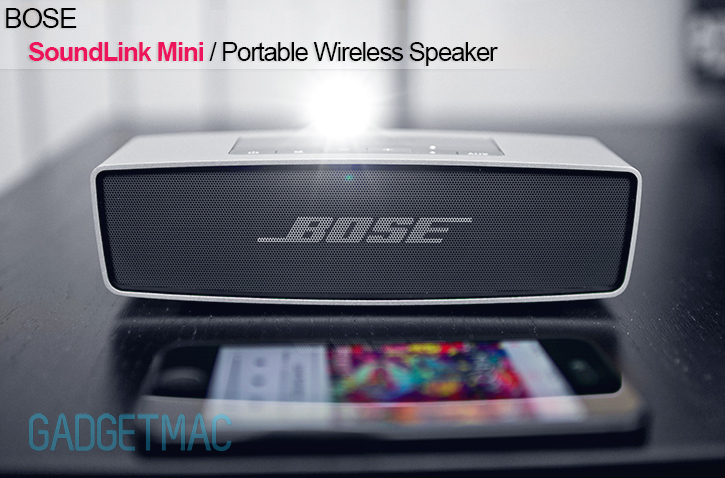 Since the Bose Company was founded in 1964, it has earned a solid reputation for audio excellence built on its dedication to research and continuous improvement. The review product, the Bose Soundlink Mini Wireless Mobile Speaker which is aimed at the portable Bluetooth speaker market, shows all the hallmarks of its Bose heritage.
The diminutive Bose Soundlink Mini Wireless Mobile Speaker delivers a superior sound yet still fits in your hand. Wherever you happen to be, you can always rely on the Soundlink Mini Bluetooth speaker to effortlessly provide a rich, full sound. This ultra-compact speaker connects wirelessly to Bluetooth devices such as smartphones and tablets, so you can have games and videos at your fingertips and listen to your music wherever you go.
Weighing 0.67 kg, the Bose Soundlink Wireless Mobile Speaker is so lightweight and compact it fits in your palm, or in your bag. With its distinctive sleek profile and low centre of gravity the speaker can be positioned almost anywhere you choose without risk of toppling over. The lithium-ion rechargeable battery delivers anything up to seven hours of music listening. Thanks to the design of the charging cradle supplied, home listening can continue whilst you recharge the battery. This can take less than three hours with a fully discharged battery.
The Bose Soundlink Wireless Mobile Speaker connects via Bluetooth with an effective range of around nine metres. Any Bluetooth-enabled device such as your smartphone, or iPad can be easily connected, and the speaker memory retains the six most recent configurations, making reconnection even easier.
The Soundlink Mini speaker exceeds audio expectations, delivering a sound which is richer and fuller than would normally be expected from a compact speaker – so you can have portability without having to compromise on performance. Bose achieve quality audio performance via a new speaker driver configuration, plus their technological know-how, somehow coaxing deep lows from this small package.
An attractive and durable aluminium casing gives this Soundlink Mini speaker a sleek and stylish look. There are onboard volume and power buttons, but all other functions are controlled via the enabled Bluetooth device.
Audio architects
Known throughout the music and audio industries for their commitment to excellence, Bose can call upon decades of research and technological expertise to meet any audio challenge, often turning 'yesterday's fiction' into 'tomorrow's reality in the process. Bose claim their products are used 'wherever good sound is needed' – so why not visit the Sistine Chapel, Japan's National Theatre or NASA's space shuttle for a Bose Soundlink Mini review?
Micro style
Measuring a mere 5 cm x 18 cm x 5.8 cm, the design of the Bose Soundlink Mini bluetooth speaker resembles a sleek modern take on the transistor radios of yesteryear. Though tiny, its solid aluminium frame faced with a flat metal grille still seems remarkably stable and secure, and its neat light-grey finish adds a touch of class.
Polished performance
Any Bose Soundlink Mini review must instantly note the incredibly rich and warm bass delivered by this compact wireless speaker, outstripping many of its rivals at a stroke. Sounding solid and smooth across the entire sound spectrum, the Bose Soundlink Mini bluetooth speaker adds weight as well as depth to the music, handling dynamic performances with ease and adding an authentic punch to featured basslines. The treble range is silky and polished adding rich detail to vocal tracks.
Main Features
Wireless Bluetooth connectivity
Seven hours playback from one Lithium-ion battery
Battery recharging, via cradle – allows music listening during recharging
Wall charging unit – connects to cradle, or direct to speaker
Auxiliary port for extra connectivity – hook up other non-Bluetooth music sources such as an MP3 player
Perform software ensures continuous Bluetooth compatibility – updates via USB
Blue, green or orange soft cover available
Weight: 0.67 kg.
Bose Soundlink Mini User Review
This is the rig I have been looking for – something truly portable that punches well above its weight. I was undecided at first, with so many other choices, before taking the final plunge. Out of the box, just the feel of the Soundlink Mini makes you want to smile. This is the real deal, not the feeble portable speakers you often associate with the concept of mobile sound. This product oozes quality. Pairing up takes all of 20 seconds, and you're good to go. The audio quality is stunning. If you are used to distorted music from battery-driven speakers, this is a step into the future. The treble is crisp and clean with a nice bass boom and no distortion. You will be amazed. The Bose tech guys should take a bow.