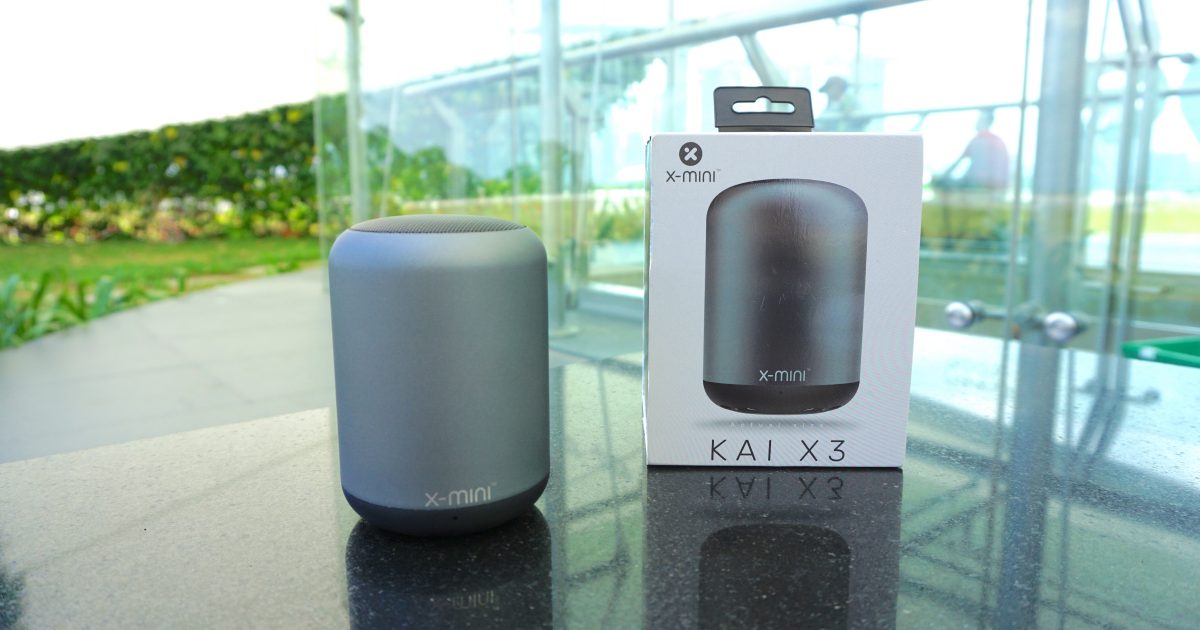 Featuring high-quality sound output via Bluetooth pairing with your audio devices, the X mini Kai Bluetooth speaker is the latest in XMI's capsule speaker range. It delivers the same unmistakeable quality for which the X mini speakers are renowned.
XMI's capsule concept
Since their launch in 2006, XMI have focused on small ultra-portable audio solutions. Their global success has established them as major portable-audio market players and brought numerous global awards such as the, Red Dot Design Award, Cnet Editors Choice Award, and T3 Gold. XMI coined the term 'capsule speaker' for their original mini speaker, and their product range now encompasses eight models. With their sights firmly set on developing innovative micro-products, XMI are looking to extend their reputation for audio quality and 'sound beyond size'.
Beautifully small
Measuring just 50 mm x 62 mm, the X mini Kai Bluetooth speaker is roughly satsuma-sized and thus, beyond doubt, qualifies as an ultra-portable audio micro-speaker. Looking neat, classy and simple, the X mini Kai is attractively packaged and conveys the impression it has been well-designed. XMI have produced a line of capsule speakers and the Kai, XMI's first Bluetooth-equipped model, is clearly an evolutionary modular development benefiting from their distinctive 'way of thinking' about micro-audio equipment. The X mini Kai review model has a matt-black rubberised exterior finish and, despite weighing all of 92.5 grams, still feels suitably durable and solid.
Xpansive audio function
The really clever trick with the X mini Kai Bluetooth speaker is its patented Bass Xpansion System which utilises a corrugated accordion-style expansion chamber to enhance lower frequencies during playback. The audio quality across all music genres is consistent: treble and mid-range frequencies are remarkably clean and crisp, and the bass frequencies, though never dominant, are clearly present and well-balanced in the audio mix.
Closing the expansion chamber immediately damps down bass and lower-mid content, proving the effectiveness of this audio-resonator feature. As with other micro-speakers, the speaker location and positioning of the X mini Kai review model significantly enhances the audio playback, so some experiment is very worthwhile. The X mini Kai also features a 'buddy jack' for daisy-chaining multiple units to beef up the total output.
Conveniently connectable
The X mini Kai review model pairs quickly and easily with all Bluetooth-enabled mobile audio devices. With its stereo 3.5 mm extension jack, the X mini Kai can also be used as a Bluetooth dongle – monitoring the audio streaming in whilst simultaneously relaying the audio on – to an analogue speaker system, for example – for enhanced playback.
Main Features:
Speaker Driver: 40mm.
Speaker output: 2.5 watts.
Frequency response: 100 Hz – 18 kHz.
Rechargeable lithium-ion battery: up to 8 hours playback, charging via USB.
Speaker phone function.
Built-in microphone.
Bluetooth: version 2.1 + EDR; A2DP.
Bluetooth dongle functionality.
X mini Kai Bluetooth speaker review
When looking at the X mini Kai review, I liked the speaker phone feature, and also the in-built microphone and Bluetooth element. A solid looking capsule about the size of a plum, this tiny wireless Kai is even smaller than the original X mini and fits neatly into the protective bag provided with the package. All necessary cables for non-Bluetooth use are included too. At first, I wondered about the Bluetooth, but actually, I was surprised how fast and easy the connection process was – quite foolproof really.
There were no dropouts, and the quality was noticeably better than most other Bluetooth hook-ups I've tried. I tested the speaker phone too, and its clarity is quite impressive. It's great for conference calls – much better than on a Smartphone! The controls on the X mini Kai are very neat, giving you control of play, pause, and track skip, as well as volume – a very convenient feature.