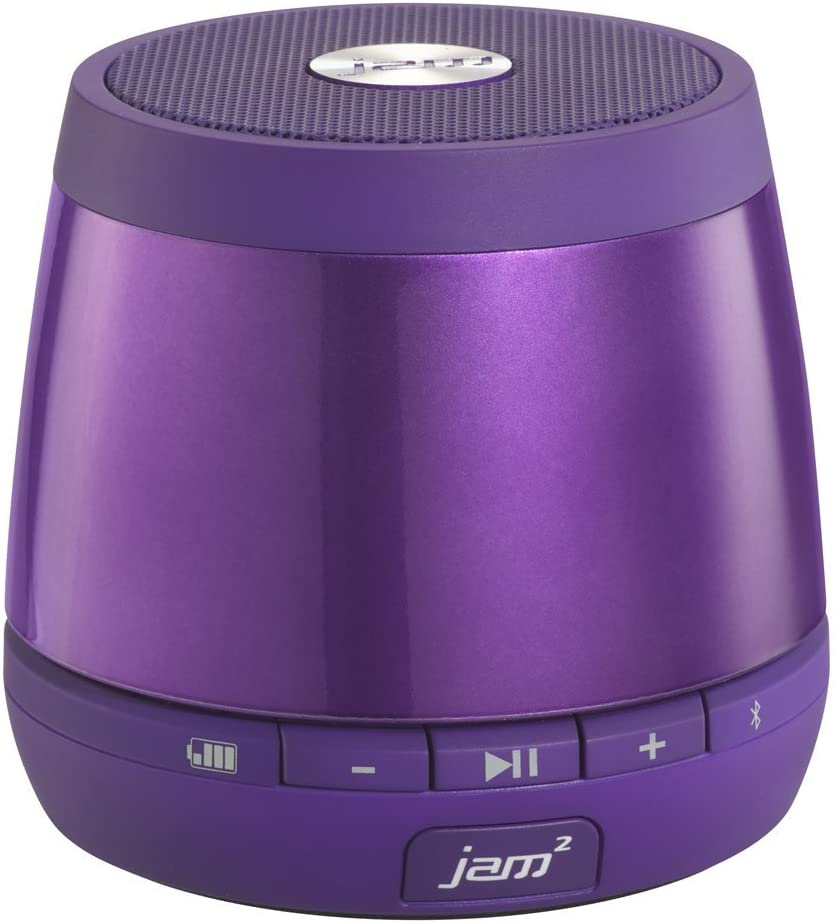 The Jam Plus wireless speaker is a new product from HMDX with improved sound, upgraded functions, and bright multi-colour options. The Jam Plus speaker is larger than the earlier version and, if you purchase a pair, they can now be linked to give a stereo configuration offering you an enhanced soundstage wherever you listen to your music.
Funk wrapper
Still available in a rainbow assortment of cool 'flavours' – blue, grey, pink, purple, and yellow – the new Jam Plus wireless speaker is unlikely to escape the notice of your friends. The familiar 'jam pot' shape and packaging remain, as does the tapered shape, standing 7.6 cm tall and narrowing from 7.6 cm at the base to 6.6 cm at the top. This gives the Jam Plus speaker a larger profile than the earlier Jam model it replaces, though, surprisingly, at just under 277 grams, it actually weighs around ten percent less. Built from plastic with rubberised sections at the base and on top, the HMDX Jam Plus looks solid and stable.
Sweet music
Amongst the first Bluetooth mini speakers to pioneer the 'stereo pair' option, the Jam Plus wireless speaker shows that HMDX are totally committed to the portable speaker format. Now your friends will be seeking out that 'sweet spot' where the audio left and right channels of your two speakers merge to get the best listening experience with every track. The HMDX Jam Plus still packs plenty of good quality, room-filling sound for its size.
Dual Bluetooth
Dual audio streaming via Bluetooth is a set to be a growing trend in wireless speakers. Thankfully, with the HMDX Jam Plus it's a feature that's already included and easy to operate using the L and R switches found on the base. A sound effect confirms the pairing; leaving you to relax and enjoy the stereo experience anywhere you please.
Main Features:
Powerful speaker with clear sound.
Wireless range: up to 10 metres.
Compatible with all Bluetooth-enabled devices.
Aux input: 3.5 mm stereo.
On-board rechargeable Lithium-Ion battery – up to 4 hours playback.
Ultra-compact and smart.
USB charging cable.
3.5mm Aux-In cable.
Dimensions: W 7.6 cm x D 6.6 cm x H 7.6 cm.
HMDX Jam Plus speaker review
Before I checked out the review, I first noticed these in my fitness class. They were pumping out crystal clear stereo sound – my coach had two of them – and he was having to yell out above the amazing volume they push out. The Jam Plus versions can wirelessly sync with each other and also your smartphone, or iPhone 4S in my case, to give a realistic L/R stereo playback.
It's easy to set up wireless control from your phone, and when the speakers first fire up they confirm they're both on and communicating with a kind of Caribbean trill. They come in fabulously cheerful colours, don't 'monopolise' a room- except with sound- and are beautifully designed into the bargain. They arrive in their own protective jam jar container to keep them nice and shiny, last reasonably well on one charge, and, as the review said, their small size makes them genuinely portable.