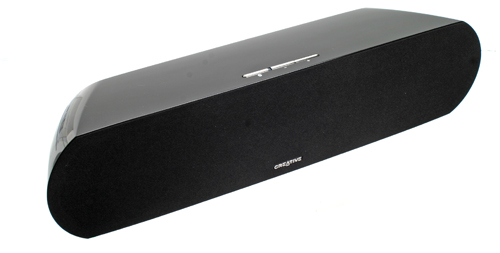 Creative D200 Wireless Bluetooth Speaker Review
Creative's D200 is a premium Bluetooth speaker system for your living room or bedroom which can be hooked up to all your Bluetooth-enabled devices. Concealed inside this minimalist one–piece speaker system are an award-winning wireless solution combined with the best high performance digital amplifiers. The outstanding, distortion-free audio this package delivers will just blow you away.
This portable Bluetooth speaker works with any Bluetooth-compatible device such as your iPhone, iPad, smartphone or notebook, to stream audio wirelessly over distances of up to ten metres. This allows you to share music wirelessly and experience the superior quality sounds delivered by the apt-X codec. Thanks to world-class acoustic modelling and tuning, you'll enjoy a new atmospheric audio world of detail and accuracy.
On the D200, both the Bluetooth connect buttons and the volume control are easy to access. And, with a Bluetooth device which supports the AVRCP protocol, you also get wireless volume control. A rear bass port handles low end frequencies with ease, so now you won't need that separate subwoofer. Even more, with the combination of efficient digital amplifiers and high-performance full-range drivers, you get to experience a full-on audio performance.
Though designed for flawless operation with wireless Bluetooth devices, the D200 system also has an Aux-input offering a wired connection for non-Bluetooth portable devices such as MP3 players. You can add wireless audio streaming functionality to computers, iPhones, iPods and iPads using Creative's Bluetooth transmitters. These USB transmitter-adapters pair with the D200 in a flash and are also compatible with other models in Creative's portable Bluetooth speaker range.
Contemporary trailblazers
Originators of the landmark Sound Blaster computer sound-card – which helped to kick-start digital multimedia – Creative are major players in today's digital audio environment with products such as modular Bluetooth speakers, premium headsets and cross-platform accessories for Playstation and Xbox 360 to their credit.
Appreciating the personal digital entertainment needs and preferences of its customers, Creative continue to expand their multimedia product range by developing innovative audio software, applications and services perfect in both form and function.
Design features
The Creative D200 review model has a clean, uncluttered shape and, measuring just 101.0 x 93.0 x 406.0 mm, the unit is designed to blend unobtrusively with home-audio environments. Featuring a black fabric speaker grille with centred Creative logo at the front, the Creative D200 Wireless Bluetooth speaker system has a jet-black glossy plastic casing with a rounded front-to-back taper at each end. Weighing 1.7 kg, the D200 looks and feels a reassuringly solid and reliable one-piece audio solution.
D200 in concert
As would be expected from its upgraded specifications, the Creative D200 review model offers much-improved audio quality as compared with its D100 sibling – treble frequencies are crisper, the mid-range is clearer, and bass frequencies are considerably warmer and richer. Boasting plenty of power-output headroom for its size, the Creative D200 Wireless Bluetooth speaker system exploits its AptX audio codec feature and improved audio hardware to the full, producing no noticeable distortion at higher gain levels.
Main features
10m Streaming range
Superb Bluetooth wireless speaker, enhanced with apt-X audio codec.
Dedicated bass port for pumping out bottom end frequencies.
Wireless music streaming from all Bluetooth devices.
Aux-input for connecting non-Bluetooth equipment.
Easy-access volume and Bluetooth connect buttons.
Creative D200 user Review
After reading a review, this was bought for me as a (requested) birthday present and I am definitely not disappointed in the Creative D200 Wireless Bluetooth Speaker system. I'm not an audiophile but the sound from this gadget is remarkable! It has its own bass port and is, right at this moment, filling the room at hi-fi quality! In fact, it's virtually filling the entire house! My friend brought round his iPhone to play a brand new song he'd just recorded. This guy IS an audiophile and he was impressed too.
My D200 speaker hooks up by the magic of Bluetooth to both my laptop and phone – so no more tinny speakers. Via a Gear 4 transmitter dongle that arrived yesterday, it now also connects nicely to my iPod Classic. This is the best little home-audio gadget you can get. I've owned the speaker for over a month and I'm still astounded by the playback. A great gizmo, and very good value for money!