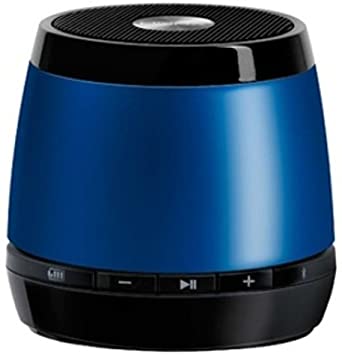 Packing a punch like a tiny boombox, the HMDX Jam wireless speaker is surprisingly powerful, outputting 360-degree audio clarity and capable of connecting wirelessly up to ten metres. The HMDX Jam speaker functions with any Bluetooth audio device and also features a cable connector for non-Bluetooth audio. Like most Bluetooth speakers, the HMDX Jam has a rechargeable battery.
Designer label
Featuring its own metal screw-on lid and plastic 'jam jar' packaging, the tiny HMDX Jam wireless speaker majors on first-up visual presence. Similarly, the fun range of colours is also labelled Strawberry, Grape, Blueberry, Blackberry, Apricot and Apple to extend the culinary reference. Weighing not much more than 225 grams, the diminutive HMDX Jam wireless speaker is no more than palm-sized, and yet still manages to feel suitably solid. With a slight upward taper, the Jam speaker has a slight craft-shop candle look. At the top is a black-plastic speaker grille with a central silver disc bearing the HMDX logo.
Jammin' out
Playback quality is surprisingly good for a modestly-priced speaker. The audio seems solid at the bass end with a pleasant and quite well-detailed upper range. Wound up a reasonable distance, the HMDX Jam can easily fill a room with decent sound, though distortion does set in as the volume goes towards maximum. The HMDX Jam speaker playback is most at home with louder styles of music and, size wise, cannot be expected to do justice to the detail of full-range music played at quieter levels.
Device setup
Three beeps after switching on, the HMDX Jam is in business. Though the actual instruction manual is tiny, the details are clear and concise, with the Bluetooth pairing code featured prominently. The Jam speaker hooks up to a whole range of Smartphones, iPhones, Tablets and Laptops, and will remember paired devices when they are reconnected later. Bluetooth features also allow control of play and pause direct from the speaker.
Non-Bluetooth compatibility
The HMDX Jam review speaker can also connect to non-Bluetooth audio via its on-board 3.5 mm stereo input. This gives access to MP3 players and older equipment for sending audio tracks to the speaker. As a further bonus, the battery-playback time available for this method is a staggering 12 hours!
Main Features:
Bluetooth connectivity for mobile audio devices.
Bluetooth range: 10 metres.
Audio input port: 3.5 mm stereo jack.
Rechargeable Lithium-Ion battery – charge time around 3 hours.
Playback time: 4 hours (Bluetooth), 12 hours audio input.
Included: Jam jar, instructions, 1 x 3.5 mm audio cable, USB charging cable.
HMDX Jam User review
I fully expected this little speaker to be a puny portable-keyring type offering. Surprisingly, it had substantial weight for its size, feeling portable but solid. There's a great metallic-green finish with glossy black trim, and some clicky-but-responsive buttons. A rubberised base gives the speaker plenty of grip to prevent it being tipped over. For a portable speaker, the Bluetooth sound quality is very good. There's a deep bass, and lots of harmonics across the range.
Bluetooth range is good and I could listen easily without interference from another room. Full charging takes three hours and, true to its word, you get a full four hours uninterrupted playback, which shoots up to 12 hours listening on the line input. Setup is simple and I was able to hook this up to my iPhone with no problems, and control play and pause from the HMDX Jam speaker via Bluetooth. Once paired up, the speaker remembers your device and you won't need to set up again.