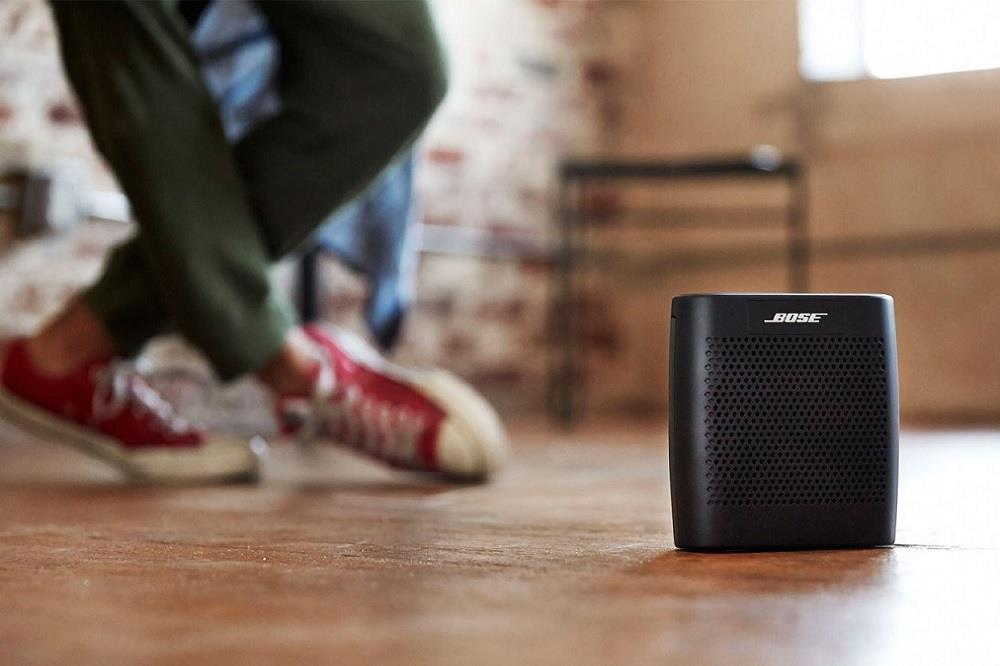 Music is life. Think about it: music is what perks you up in the morning, gets you through the day and helps you sleep at night. Music sets the mood; it inspires and motivates.
Music is your motivation, so you would like to carry it with you everywhere.
But you are done with headphones – you do not care for tangled earphones; nor do you have a taste for wireless Bluetooth headphones that are big and bulky.
Plus, you want the capability to share your music with others, ultimately inspiring and motivating them as well.
With the Bose SoundLink Color Bluetooth Speaker, you could stay inspired and motivated throughout the day.
Play your favorite songs from your Bluetooth enabled device, or connect your MP3 player through the auxiliary input and enjoy rich, crisp and clear music whenever you want.
But more importantly, you can take the portable and lightweight Bose SoundLink Color wherever you go.
It is easy to use and pair with your smartphone, your tablet or your Bluetooth-enabled music player, so you can play you music anytime, anywhere you want.
With various colors to suit your lifestyle, the Bose SoundLink Color gives you 8 hours of solid music to keep you inspired and moving throughout the day.
Features
Rechargeable lithium-ion battery that delivers up to 8 hours of vibrant, well-defined and full-range sound
Micro USB port that lets you update
Untethered connection with your tablet, your smartphone, your MP3 player or any of your otherBluetooth-enabled music devices
8-inch auxiliary input that allows connection with non-Bluetooth devices
Dimensions: 2.1 in x 5in x 5.3 in
Weight: 1.2 lbs
Free Trial Period: 30 days
Warranty: 1 year
Benefits
The Bose SoundLink Color delivers unsurpassed connectivity, great portability and superb sound quality in a small package, without the expensive price.
Why would you get a Bluetooth speaker instead of a wired one? Because you want to be able to play music from your device without tethering it to the speaker. With Bose SoundLink Color, you can play your music out loud without suffering connectivity issues, even up to a distance of 30 feet.
Not only that: the speaker also allows you to pair it with the 8 most recent devices you have used, unlike other devices that need to be set up with the music player every single time. You simply need to turn the Bluetooth on your device, turn the speaker on and voila – instant connection.
No fuss and certainly no pulling your hair in frustration. And because you can connect the SoundLink Color to two Bluetooth devices at the same time, you can switch between both devices easily, ensuring continuous music for a great time.
You want a portable speaker? You are sure to have one in the SoundLink Color. Lightweight and compact, it easily fits in your backpack or your tote bag.
At 1.25 lbs, its small yet durable body makes for a very easy way to carry your music with you. The speaker also comes with the power, source and volume buttons, making music playing easy and hassle-free.
As if that is not enough, the speaker can be charged with any standard Micro USB cable, sparing you from having to bring an extra cable charger and power supply, should you need to head out of the house.
The same cable charger also allows you to connect the speaker to your desktop or laptop to get software updates and make sure that it will always be in sync with your music player.
Despite its size, the Bose SoundLink Color speaker packs a punch with the kind of well-balanced, vibrant and full-range music Bose has always been known for – warm and deep bass and pure treble that does not sound tinny, even at loud volumes.
If you are the kind who likes playing music through big chunks of time, this speaker is for you.
Enjoy your kind of music – folk, classical, rock, alternative, hiphop – or listen to podcasts or audiobooks without interruption for up to 8 hours in between charging.
You can even use it while it is plugged in, so you can lounge about, relax with or dance to your favorite tunes non-stop.
Disadvantages
If there is one thing that Bose can work on with regard to SoundLink Color, it's the battery. While the speaker is powerful, the battery only lasts for 300 cycle charges, after which it starts to die.
There is no way to change the battery, so you either use the speaker while it is plugged to a power outlet, or junk the speaker altogether. Yes, we understand that most devices are powered by non-replaceable Lithium-ion batteries.
Yes we get that most devices are sealed for added durability, but we are kind of hoping that Bose can do something about this, maybe by making units with replaceable batteries.
It would be a waste to get a SoundLink Color unit, use it and then just totally discard it because it's got no more power.
Maybe Bose can look into this and introduce something that is greener, which wouldn't generate as much e-waste. Of course, you can still use it while plugged in, but the speaker wouldn't be wireless or portable anymore.
There are some suggestions about recharging the unit halfway through each cycle to extend the life of the battery to around 5 years. However, the unit does not have any kind of battery indicator to let you know you've already used 50% of the power.
Verdict
Looking at all considerations, we can say that the Bose SoundLink Color speaker is a good buy.
If you want music on-the-go, you can have it with this compact, handy yet powerful and high-quality speaker from Bose. You can never go wrong in getting a quality Bose product that costs nothing like a Bose.