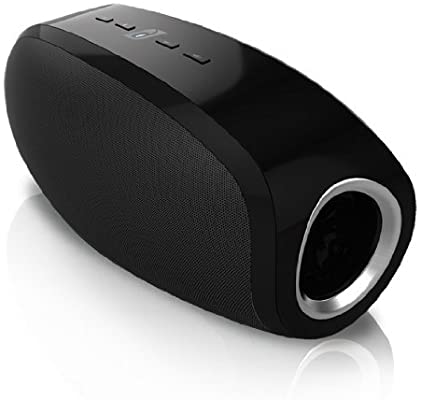 This Damson Oyster review introduces a smart British-made Bluetooth speaker with a powerful sound that is rich and full. The Damson Oyster speaker packs plenty of battery power, not just for an afternoon on the beach but also for the party to follow! With its exceptional sonic capabilities, and lightweight, eye-catching design, the Damson Oyster is an ideal audio accessory for music fans.
Portable elegance
Shaped much like an American football, the Damson Oyster speaker nevertheless has a sleek and elegant appearance. Though the speaker is only available in black or white variants, the manufacturers also provide a range of colourful replacement speaker grilles so you can colour-match the Oyster to suit your lifestyle. Feeling reassuringly rugged and solid despite its compact size, the Oyster is equally at home inside the house or outdoors, and comes with its own protective cover for travelling.
Serious audio presence
Equipped with dual front-facing 2-inch midrange drivers, a pair of side-firing 1.5-inch tweeters, and also supported by a passive bass radiator, the Damson Oyster is not lacking on-board audio firepower. This configuration, shaped by its internal digital signal processing feature, makes the most of a power-output rating of 2 x 10 watts and undoubtedly gives the Oyster power beyond its size. Vocals come through with crispness and clarity whilst the mid-range is delivered rich and full, with everything underpinned by a thumping bass.
The Oyster connects with your world
The Damson Oyster features apt-X A2DP Bluetooth capability so you can stream audio from any compatible mobile audio device within its 10-metre range. In addition, the Damson Oyster speaker has a 3.55-mm aux input for connecting non-Bluetooth music sources, and its built-in microphone adds a handy speakerphone feature for keeping in touch with friends. A massive 12 hours of battery playback allows your ultra-portable Oyster speaker to be almost continuously available for your music no matter where you are.
Main Features:
Speakers: 2 x 2" front-facing speaker drivers; 2 x 1.5" side-firing drivers; 1 x passive radiator.
Output: 2 x 10 watts.
3D sound processor.
Bluetooth: A2DP and Apt-X support for audio streaming.
Bluetooth range: 10 metres.
Aux input: stereo 3.5 mm.
Battery: rechargeable lithium-ion.
12 hours playback.
On-board microphone for hands-free call facility.
Damson Oyster review
I read a Damson Oyster review and this little speaker was a great find. I travel a lot and, over five years, have spent a fortune on really poor quality speakers – both build features and sound. The Oyster is REALLY loud with some serious bass presence, and sounds amazing. The volume is very evenly distributed – which Damson describes as '3D sound'. Small and compact, and light enough to carry around easily, it's been in continuous use since I bought it. I'm planning to take it on holiday; it'll be easy to pack and great for the hotel, cycling trips, and, of course, relaxing on the beach.
The quoted battery life is 12 hours, though I'm sure I've exceeded this – really impressive! The Bluetooth interface is really simple to use (without glitches) and is reliable within range (10 metres). There's a male-to-male cable included for non-Bluetooth equipments, which is a thoughtful touch for iPod nano and legacy devices. If you decide to purchase one, you're not likely to be disappointed. Just shows you how good British company products really are. Well done Damson!