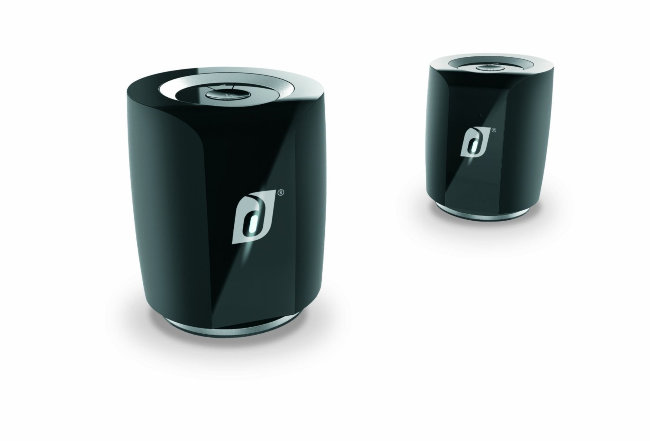 Damson Jet Review
The Damson Jet comes as a pair of palm-sized stereo speakers ready, willing, and able to wirelessly fill your room with true stereo sound. Featuring Damson's Incisor Diffusion Technology to give you a powerful bass boost, these speakers deliver real split-channel audio, enabling you to hear your music as it's meant to be heard. A Damson Jet speaker set is the perfect playback choice for your mobile audio devices.
Damson Audio enhancement
Yorkshire-based Damson Audio have developed a range of portable speakers equipped with their own pioneering sound-enhancement and stereo-Bluetooth technologies. Their innovative portable-audio designs appeal to both home users and those who enjoy music on the move.
Jet build
At 7.5-cm tall, with a diameter of 5.8 cm, each speaker is about the size of an apple. However, that won't stop your Damson Jet delivering the loudest sound possible with this size of speaker. Each speaker is solidly constructed and the outer cylinder surfaces have a smooth rubberised finish. In each case, the front 'face' of the speaker has a centred Damson logo with a simple control surface on the top, and in/out audio connections at the rear. Damson Jet speaker sets are available in a choice of red, blue, black/white, black, and burnt orange.
Jet audio
Whilst the audio quality of many small speakers can be enhanced by careful positioning, the Damson Jet review speaker, which uses patent Incisor Diffusion Technology, has been specifically designed to exploit any location to produce a powerful, bass-rich sound. Damson advise using ' any surface that will allow for resonance… the hollower the better', with surfaces of glass, metals, plastics, and wood usually giving the best results. In performance, Damson Jet sets, with an audio-output rating of 20 watts apiece, blast out a punchy, stereo-enhanced bass sound with enormous party potential.
Jet connectivity
The Damson Jet speaker supports NFC (Near Field Communication) smartphone connectivity as well as Bluetooth audio streaming. And, for your wired-audio devices, there is an aux-input, plus an audio output for daisy-chaining multiple Jet speakers to pump up the volume. Should you need to invite more friends to the party, there's a built-in hands-free call feature too.
Main Features:
Speaker: bass-optimised Incisor Diffusion Technology with built-in transducer.
True Stereo: real stereo speaker pair.
Output: 2 x 20 watts.
Audio Input: stereo 3.5mm jack.
Audio Output: 3.5mm jack – for daisy-chaining.
Bluetooth: A2DP audio streaming – range 10 metres.
NFC: instant pairing via Near Field Communication.
Built-in microphone: for hands-free calls.
Battery: Lithium Ion – rechargeable via micro-USB socket.
Playback: Up to 9 hours.
Damson Jet review
I actually started with the Damson Twist but when I read the Damson Jet review which promised Stereo Bluetooth, and extra power & bass, I decided to purchase, and they've been really good value for money. Since then I've taken these little beauties on holiday where, effortlessly filling the space, they get the hotel-room party going for sure. Just remember, different surfaces produce different results. My preferred set-up is to use the clamp-accessory option and place them on a glass surface for an amazing sound.
Another trick is to place them each side of the bed in the drawer(s) of your bedside tables for a wide soundstage. The pair has a great stylish design, and comes with first-class packaging and a handy travel pouch. They are super-easy to use, connect faultlessly to Bluetooth devices, and are particularly recommended if your current sound has a weak bass. Fear no more this pair really rock!