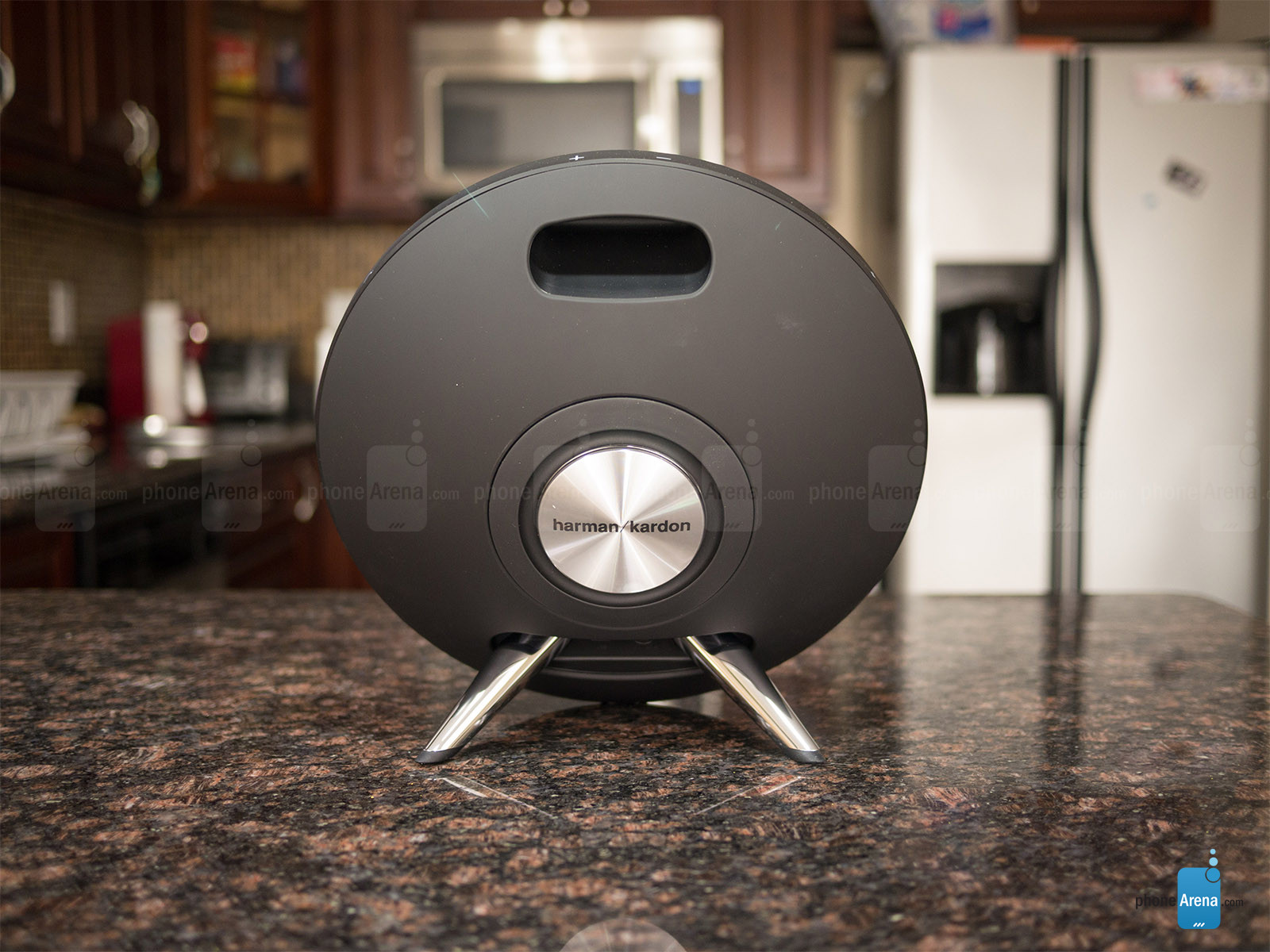 The Harman Kardon Onyx Studio wireless speaker heralds the rebirth of an earlier tried-and-tested Harmon design offering the same high-quality audio performance in more affordable form. With its sleek black go-anywhere good looks, pumping bass, and five hours of non-stop portable music, the Onyx is a quality audio all-rounder which will never let you down, and never look out of place.
Harman Kardon audio
Active since the 1950s, America's Harmon Kardon have always been audio innovators: combining an amplifier and tuner to invent the receiver, and colour coding A/V cables and connectors being just two of their early domestic audio achievements. The company's flair and technical expertise has also influenced developments in stereo sound, and in more recent times, Harmon Kardon have introduced a remote control which features automatic audio calibration for the benefit of the home-cinema world.
Audio chic
Adopting a slim, minimalist design perspective, the Harman Kardon Onyx Studio wireless speaker nevertheless has the refined visual presence of a premium-quality audio speaker. Measuring 34.5 x 22.2 x 32.5 cm, and about the size of a small satellite dish, the Onyx is solidly built and covered with a smart black rubberised material which is smooth to the touch.
The plain front features a restrained central logo, and the outer rim features touch-control surfaces to access the Bluetooth, power and volume functions. At the back, chrome legs give the Onyx a practical and stylish tilt, and at the rear centre position, a passive-radiator disc in shiny chrome immediately catches the eye. There is a recessed carry-slot at the top, and micro-USB and power ports below.
Bass ace
With a total output of 60 watts, four speaker drivers and dual bass radiators, this Harman Kardon Onyx review model is well equipped to produce a really big sound. A pair of high-frequency tweeters deliver lots of treble detail and presence, whilst two supporting mid-range drivers add a warm and pleasing audio resonance. However, the smooth, powerful bass response the Onyx achieves is its truly stunning feature and caps a classy full-spectrum audio performance.
Functional connectivity
Stripped of some of the connectivity of the original model (to achieve a competitive pricing), this incarnation of the Harman Kardon Onyx Studio offers just Bluetooth 3.0 connectivity with a standard range of 32 feet. Nevertheless, the onboard rechargeable battery still offers a respectable music playback in excess of five hours.
Main Features:
Bluetooth version 3.0, range 32 feet
Onboard rechargeable lithium-ion battery
Output: 4×15 watts
Frequency response: 60Hz – 20kHz
SNR ratio: 95 dB
Speakers: 2 x passive radiators, 2 x mid-range (3"), 2 x tweeters (3/4″)
Harman Kardon Onyx Review
My friend brought his Onyx speaker round and, having been searching for a wireless speaker that truly fills a room – and also having read the Harman Kardon Onyx review – I just had to get one too. This little beauty is just the perfect mobile speaker to use in the lounge, garden, or anywhere – no wires and definitely no fuss. The audio quality you get from the Onyx is just amazing: it's solid and crisp with a clean sounding treble, really nice mids, and a rich, deep bass. The speaker performs every style of music with clarity and subtlety, adding a nice punch with bass-heavy tracks, and has plenty of volume available. You can charge up the Onyx in around three hours, and the playback is advertised at roughly five hours – however, I can confirm the battery lasted another hour and a half more than this.