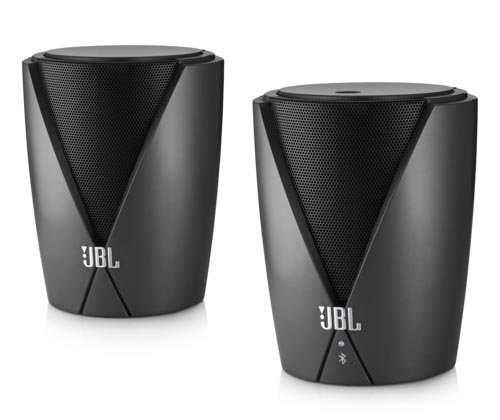 JBL Jembe Wireless Bluetooth Speaker System
JBL have released a number of wireless Bluetooth speakers onto the market, and their existing Jembe speaker system has been revamped to create this wireless Bluetooth speaker system. The Jembe wireless Bluetooth speakers are identical to the pre-Bluetooth model. They differ from many portable speakers in the fact that the system is comprised of two speakers, joined by a single wire approximately 60 inches long.
The target market seems to be PC users who also want to stream audio from their Bluetooth-enabled devices. Setting up and using the Jembe can be a little fiddly due to the separate speakers, joining cable and AC power supply cable.
Having said that, for a stationery setup, the JBL Jembe Bluetooth speakers deliver good sound, and despite not having a dedicate sub-woofer inside, the design of the speakers include the 'slipstream' port technology which ensures that bass notes aren't too weak.
The right hand speaker has a single dial built into the design on the top. It serves as the power on/off switch as well as volume dial. The rest of the wireless Bluetooth speaker system design is understated, with V shaped speaker grills on the front of each speaker. There is a single LED on the right speaker, which changes from white to blue when a device is paired via Bluetooth. There is a handy 3.5mm audio-in port on the right hand speaker, which can be used with older devices that don't have Bluetooth functionality.
Audio gurus
Founded by speaker-guru J. B. Lansing, Californian audio experts JBL Audio are a long-established professional audio company and market leaders in loudspeaker development since the early days of sound-cinema. JBL systems can be found in recording studios and corporate sound installations, on tour with DJs and musicians, and even in luxury Ford and Toyota cars. With plenty of experience in domestic audio too, JBL have developed their own range of speakers and accessories for home setups and portable audio.
Evocative design
The JBL Jembe review models take their cue from the West-African jembe, or djembé, hand drum used for music and communication. These handsome cylindrical speakers are 13.5 cm tall and taper slightly from a diameter of 10.4 cm at the top to 8.4 cm at the base. Made from a smooth heavy-duty plastic, each speaker has a V-shaped aluminium grille for sound distribution, and one 'master speaker' features a push-down volume disc on the Jembe's top surface.
Strong performance
For such small speakers, the JBL Jembe pair delivers an excellent full-spectrum audio performance. With ample volume to fill a small room, these Jembes push out a sparkling treble, clear mid-range sounds and, via to JBL's 'slipstream' port design, the bass is richer than expected from speakers without a sub-woofer installation.
Main features
High-quality JBL speaker system.
Separate speakers for good stereo sound spread.
Bluetooth wireless connectivity using HARMAN TrueStream.
Slipstream port design for improved bass.
3.5mm audio-in port for external audio sources.
Sound quality: 6 watt per speaker. Frequency response: 80Hz – 20kHz
JBL Jembe User Review
I just bought a Samsung S4 and needed some speakers that I can use with my home PC as well as streaming audio from the new phone. I have used the JBL Jembe speakers before, but didn't realise that they now included Bluetooth connectivity.
It didn't take too much convincing to buy these speakers, because I know that the sound is great, and the Bluetooth connectivity uses the HARMAN TrueStream protocol for extra stability. I'm a bit of an audio nerd, so this was a big selling point for me! For a stationery setup such as a home or office PC, these speakers sound great and also allow you to sync with your Bluetooth gadgets.