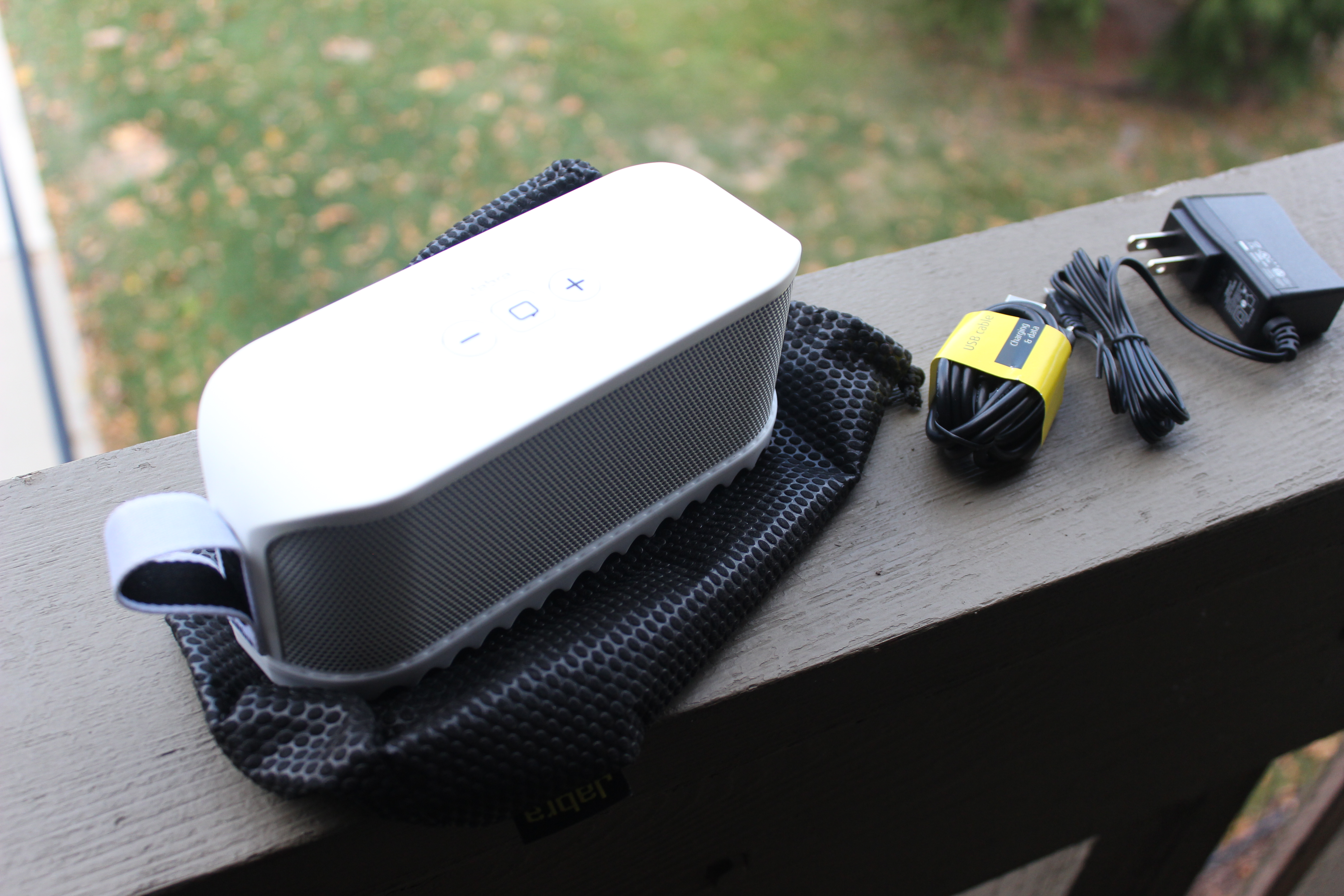 Alongside their range of music entertainment devices, Jabra are also global producers of speakerphones and innovative award-winning headsets. Aiming consistently for the gold standard in product design and development, Jabra are looking to 'create designs that meet the needs of customers in unexpected and liberating ways'. Aware also that their products are often used in combination with other devices, Jabra promise users 'seamless connectivity' and the opportunity to experience products 'of exceptional quality that simply work'.
Smart design with attitude
Featuring a striking 'Doc Marten boot' style 'sole', the Jabra Solemate portable wireless speaker is not easy to miss. Though it weighs only 610 grams, the Solemate nevertheless has a suitably solid presence and is available in a choice of red, yellow, blue, grey, white or black. The front and rear of the Jabra Solemate Bluetooth speaker are both built from metal; the rear consists of a chassis-plate bearing the Jabra logo, whilst the front is a plain perforated speaker grille. The top, and also the bottom 'sole' of the unit, are fashioned from heavy-duty rubber, with the sole design providing extra stability.
Soleful performer
With dual tweeters, a subwoofer, and a passive bass radiator, the Jabra Solemate portable wireless speaker comes well-equipped to deliver a quality audio performance. During playback, the bass is full and rounded, and the midrange and high-end supply excellent performance detail with all styles of music. The Jabra Solemate Bluetooth speaker can fill a room with sound whilst still retaining good audio clarity.
Hook-up options
The Solemate pairs easily to Bluetooth-enabled devices, thanks to the NFC (near-field communication) feature, so you can connect to all laptops, tablets, smartphones and similar mobile audio devices within a 10-metre range. For non-Bluetooth connectivity there's a 3.5 mm stereo audio input – with a neat audio cable stowed under the unit's 'sole' – and even a USB socket for convenient computer connectivity.
Main Features:
Speakers: 2 x acoustic tweeters, 1 x subwoofer.
Output: 9 watts.
Digital amplifier: class D, three channels.
Passive bass radiator.
Bluetooth: 10-metre range.
Near-field communication (NFC).
Connectivity: 3.5 mm audio cable, USB, Bluetooth 3.0.
Speakerphone function.
Rechargeable Lithium-Ion battery.
Playback: up to 8 hours.
Weight: 610 g.
Dimensions: L 172 mm x W 64 mm x H 70 mm.
Jabra Solemate review
The Jabra Solemate is quite heavy and has a steel grille, ridged rubber sole with a carry loop, and a black-matt soft-touch finish. Marketed in the Jabra Solemate review I read as being 'tough, dust and splashproof', the Solemate certainly feels well built. Inside, there are three speakers; a large central speaker plus two smaller ones. At one end there's a grab-strap, and a 3.5mm aux/audio input, micro usb connection and Bluetooth multi-switch at the other.
There are three flush control buttons on the top surface. Next, the raison d'etre for speakers: audio performance. Thankfully, the sound is very full and excellent quality with all frequencies in balance and a prominent bass. The sound is undistorted and seems fairly directional. The Solemate is easily loud enough to fill a room. In terms of extra functionality; you can use it as a USB speaker with your computer. In Bluetooth and USB modes, it's also a hands-free speakerphone for Gtalk and Skype. The battery gets an 'up to 8 hours' rating.