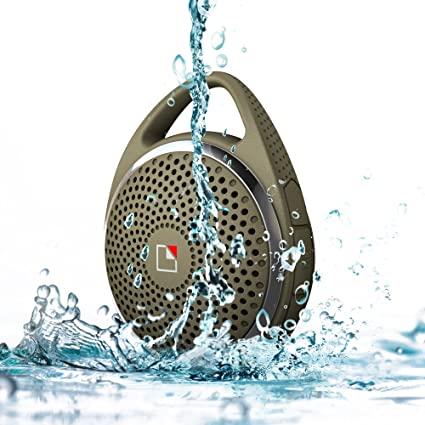 SoundDew Waterproof Bluetooth Speaker
Despite its relatively small proportions, the SoundDew waterproof Bluetooth speaker offers a remarkably full and balanced audio playback and deserves serious consideration as a portable audio device. Boasting a robust IPX4-standard casing, the SoundDew speaker is a great audio buddy for shower time and wet environments and is also a viable option for outdoor locations.
Design focus
The SoundDew Bluetooth shower speaker is a sound, well-crafted, practical design which takes its cue from a raindrop shape and feels great to handle. Its body is fashioned from silicon-rubber with the back and speaker grille formed from a tough hard-wearing plastic. On the back, a grey-rubber section provides support when the speaker is horizontal, and the charging and auxiliary ports are also protected by a silicon-rubber flap. A handily placed hook at the top is used to hang the speaker in the preferred playback position.
Aquatic and outdoor accessory
Small enough to take anywhere, the SoundDew waterproof Bluetooth speaker is the ideal accessory for camping, beach holidays, music-listening by the pool or in the shower, and much more. Its clever hook-loop is easily attached to backpacks, carabiners and shower-rails for convenient and instant music-listening. Being both dust-proof and water-proof, the SoundDew Bluetooth shower speaker is well-adapted to cope with a range of challenging audio environments.
Audio credentials
Surprisingly crisp and clear in performance, the SoundDew Bluetooth shower speaker delivers good bass for such a small unit. Indoor sound from bathrooms and similar areas is considerably richer, and the overall distortion-free performance is suitable for most types of music.
Wired and wireless options
Featuring both Bluetooth 3.0 audio compatibility and wired-audio connectivity via a 3.5 mm stereo jack, the SoundDew waterproof Bluetooth speaker is well-placed to connect with the world of mobile audio. This combination should easily accommodate the latest iPhones, Tablets and Smartphones as well as MP3 audio players.
Main Features
Splash-proof and dust-protected.
Full Range Speaker
On-board Microphone
Wireless protocol: Bluetooth V3.0 + EDR
Music playback: 8 hours (approx.).
Talk time: 10 hours (approx.).
Audio input: 3.5mm audio jack.
Micro-USB connector – (charging only)
Included: Quick-start guide, 3.5mm audio cable.
SoundDew waterproof bluetooth speaker Review
Great little Bluetooth speaker, especially useful for families with kids as it's rubberised, can take a few bumps, and is waterproof – that doesn't mean it can be immersed in water, but it will shake off splashes no problem. The overall design is attractive and the sound quality is more than reasonable. As with any low-cost speaker, this lacks a deep bass, but that's common in this price range. To pair the speaker hold down the multi-function button (the power button) for about 10 seconds, the unit will then enable pairing mode and appear on the device you're using.
Next time you power up, it'll remember and reconnect to your device automatically whenever it's within range. Great for bathroom use – you don't need to worry about your streaming device suffering water damage because it can be left outside the bathroom anything up to 10 metres distance. There's also a call-answering feature, again without needing your phone to actually be inside the bathroom. A great piece of kit for the bathroom, but also lightweight enough to be used as a travel/holiday speaker.