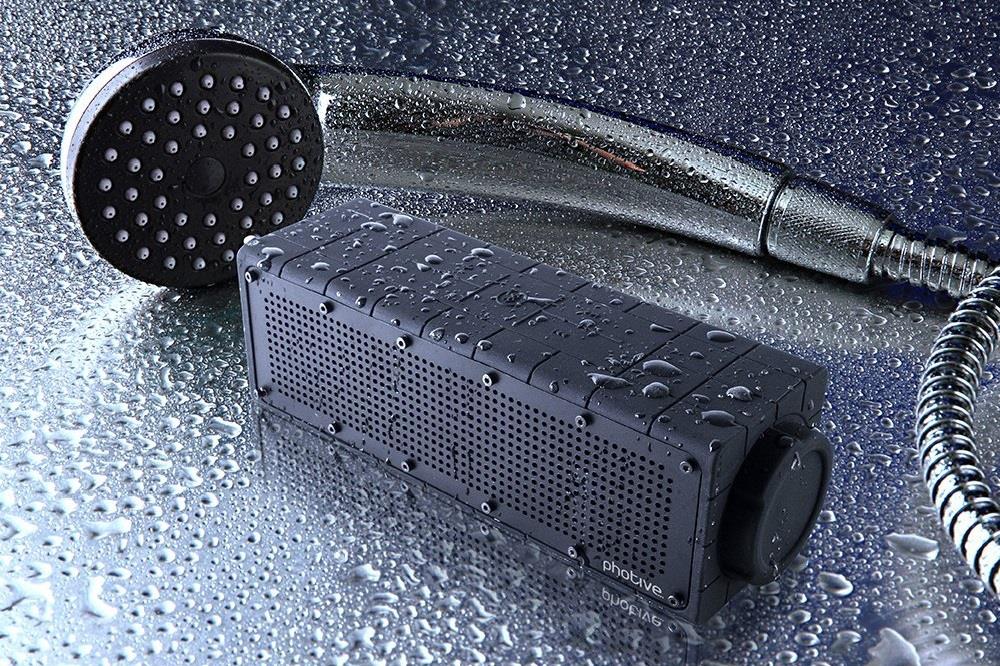 Are you a fan of the great outdoors but sometimes find that venturing out there can be a bit dull and boring? Photive has the solution for you: the Rain Waterproof Wireless Bluetooth speaker.
You want music? We got music, with Rain as a perfect companion in your adventures to locations with not-so-perfect conditions.
Looking forward to the promise of endless hours of fun at the beach – swimming, soaking up the sun, playing ballgames in the sand and partying? Got plans of going mountain climbing with friends – walking on foot, passing through forest trails, hoisting yourself up on big rocks?
None of these activities will be complete without music to liven things up. Enter Rain, with its durable and waterproof body that can withstand drops and bumps, sand and dirt, not to mention some beach water splashing and, yes, beer spilling.
Features
Has an Ingress Protection rating of IP66, making the speaker not just dust and dirt proof, but waterproof as well
Built with tough materials and a rugged design to endure bumps and shocks
Designed with a passive subwoofer and two drivers to give you that amazingly clear and vibrant sound
Makes use of the latest Bluetooth 4.0 technology to make the best connection with your Bluetooth-enabled music player
Powered by a rechargeable Lithium-Ion battery that allows you to play up to 8 hours of uninterrupted music
Dimensions: 8.5 in x 4.4 in x 3.2 in
Weight: 1.4 lbs
Benefits
Do you want a small speaker that packs a big punch? Look no further than the Photive Rain, whose shape might remind you of a bulky pencil case, except that it's black and boring. Don't let its looks fool you, though.
Boring as it might seem, the Rain is a toughie. Encased in smooth and firm rubber on three sides, the Hydra's main face is shielded with a durable metal grill that is sure to protect the subwoofer and the drivers inside from any impact in case of drops and falls, even on concrete.
On the side atop the metal grill you will find the control buttons: Press/Play, Volume Up/Down and Previous/Next track. On the right side you will see a round pop off cap, which when removed will reveal the power switch, the aux port for playing non-Bluetooth devices and the Micro USB port for charging.
Small and light as it is, the Rain produces amazing sound. The clarity of sound is refreshing; it's like hearing the vocals and the instrumentation from different speakers.
As expected of a speaker this small, the Rain does not give out a booming bass, but overall the quality of sound is an 8/10. The unit makes highs sound crisp and the mids really smooth.
As if that's not enough, the Rain's power is long-lasting, sometimes going beyond the promised 8 hours of non-stop listening pleasure.
Its Bluetooth connectivity is also superb: pairing the speaker with any Bluetooth-enabled device poses no hassle, as the Rain has a 30ft range. It also functions as an effective speakerphone for taking calls.
Perhaps the greatest thing about the Rain is its surprising performance – you can take it almost anywhere.
Bring it with you to the beach, to camp, to a party and submit it to some kind of abuse or another and it will still play your favorite tunes without distorting the sound.
A Rain unit was even reported to have survived a tornado – none of the other Bluetooth speaker manufacturers in the market can say the same about their products.
Disadvantages
If there is one thing that's lacking in the Rain , it's the bass. However, this is expected of all Bluetooth speakers of this size – you cannot possibly cram a super big subwoofer in such a small package.
Yet there are some users who have complained of one or more of the following issues:
difficult Bluetooth connectivity that requires repeatedly turning the speaker on and off until it recognizes the device
incompatibility with some devices
loosening of the plastic cap on the side which covers the power button and the connectivity ports
irreplaceable battery (you can call Photive and ask for a replacement while still inside the warranty stage; when you go beyond, you have to pay $25, which is almost the price of a new unit)
a hissing treble sound, distorted sound, or lost sound quality
poorly built body that breaks at random
But at $40, these defects might be expected, and perhaps the defects are merely flukes, as many other users attest to the usability and the excellent performance of the Rain.
Maybe Photive needs to look clearly into their units and make sure that everything passes thorough quality control inspection.
People would hate to pass up a speaker that does not just sound good inside the shower, but also delivers the power and longevity other Bluetooth speakers can provide.
Verdict
If you are looking for a Bluetooth speaker that's easy on the pocket but will not sound tinny or distorted, you must get the Rain Waterproof Wireless Bluetooth speaker. Simply put, its performance and ruggedness will speak for itself.
Of course, you might want to consider investing in a more expensive Bluetooth speaker that is guaranteed to not conk out on you, especially at times when you need it the most.
But how sure are you that the high-end speaker you purchase will not have the same defects?