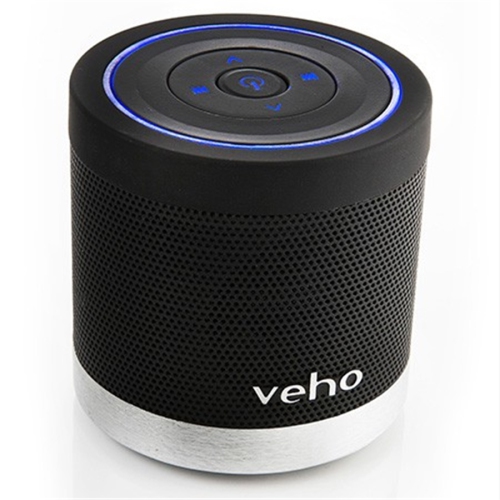 Veho 360 M4 Bluetooth Speaker review
The Veho 360 M4 is the latest addition to Veho's 360 portable wireless audio range. This handy little Bluetooth speaker, which is Veho's successor to the M3, features extended functionality and delivers a remarkably clear and vibrant audio performance in relation to its actual size.
Standing out from the crowd
Veho is a new young UK company founded in 2006 with a focus on becoming a 'fresh and energetic consumer electronics brand'. Their global dimension is handled by 5 international offices and Veho have sales distribution facilities in more than 100 countries. Preferring to do things their own way, Veho have developed some innovative and eye-catching electronics products and are fast establishing a presence in cutting-edge technology markets worldwide.
Funky design
The Veho 360 M4 is a lightweight ultra-mini speaker which reflects Veho's philosophy that their products must ' look as good as they perform.' This smart Veho Bluetooth speaker is a small cylinder shape just 6.5 cm tall and 5.5 cm in diameter. All sides of the Veho 360 review speaker are completely covered by a black perforated speaker grille with nothing else added except the Veho logo. At the top of the speaker, the touch controls are tastefully outlined in blue, accenting the M4′s contours. A funky carry-sock completes the package.
Trusty performer
Provided you're not demanding pocket-audio dynamite, the Veho 360 M4 will deliver a big room-filling audio of striking clarity for its tiny size. Careful positioning for extra sound-reflections bouncing off suitable adjacent surfaces can help enrich the sound further, and the Veho Bluetooth speaker performs without distortion at higher sound levels – though distortion can occur at full-volume with some music tracks.
Well-connected
This Veho 360 review speaker comes equipped with Bluetooth wireless V2.1 and supports AVRCP and A2DP Bluetooth protocols. A wireless touch control, accessed from the top of the Veho Bluetooth speaker controls track selection and volume, and the M4 also supports audio devices via a 3.5 mm line-input and also accepts MP3 and MWV formats via a 16 GB Micro SD card slot.
Main Features:
Compatible with all wireless Bluetooth devices – range 10 metres.
Ultra-compact and portable.
Big stereo playback.
Output: 2 x 2.2 watt.
On-board rechargeable Battery – up to 5 hours music time.
Line-in port and cable for non-Bluetooth audio devices.
Micro SD slot (16GB) – play music direct.
Track/Volume controls – speaker-mounted.
Dimensions: 5.5cm Diameter x 6.5cm Height.
Also included: line-in cable, Mini-USB charging cable, carry-sock.
Veho 360 M4 User review
This little Veho Bluetooth speaker really has it all. Very easy to pair both with my brother's iPhone 4S and also with my Blackberry with no troubles at all. The sound quality and loudness exceeded my expectations, considering the size of the speaker, and the track/volume controls on top made it very easy to use. I can confirm that the signal can indeed reach very successfully across an extremely large room.
I haven't used it personally, but the micro SD slot could be useful if you happen to be without a phone, and there's a line in, of course, if you're not using the wireless Bluetooth. The stated rechargeable battery life is up around four hours – I'm getting six hours listening to music at nearly full volume. Well impressed! I would be astonished if this speaker disappointed anyone!