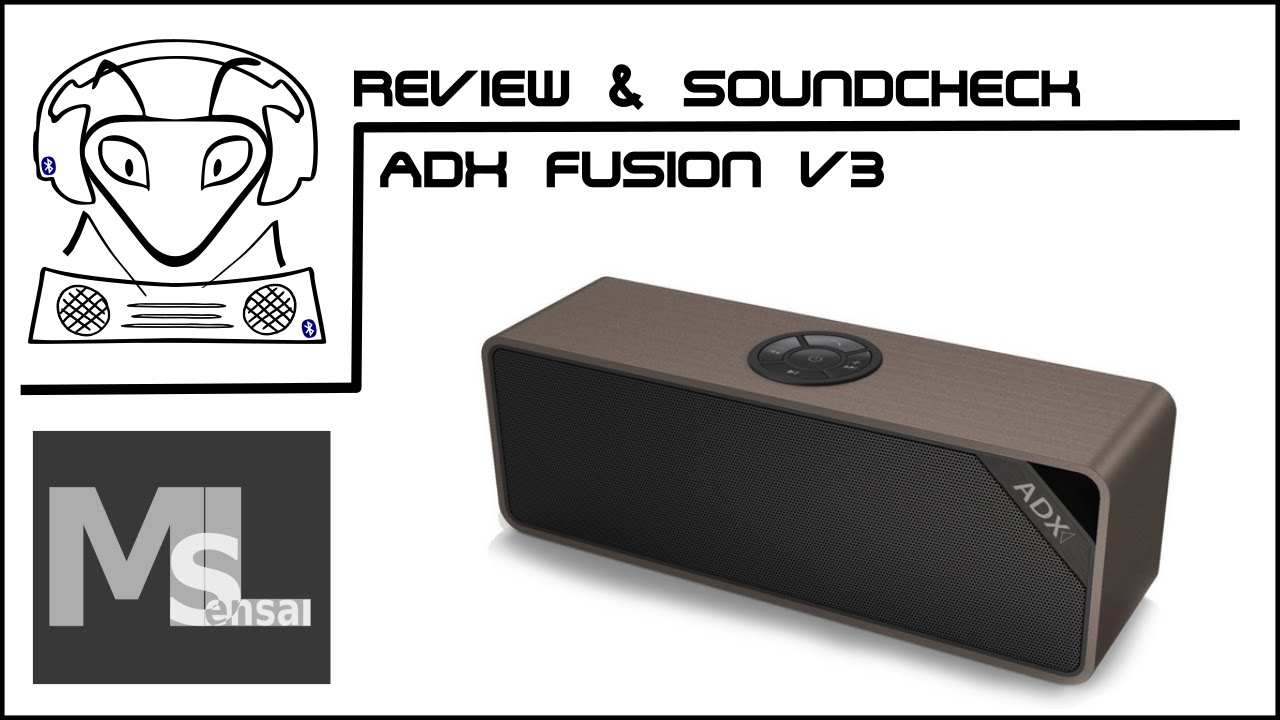 ADX Fusion Review
The ADX Fusion portable Bluetooth speaker is a small neat unit with a sleek modern look suitable for any home, office or party atmosphere. It's got all the latest features such as Bluetooth 4.0 – which means apps and NFC one-touch pairing, plus good quality audio hardware, so you've always got plenty of distortion-free music to bring to the party.
Newcomers with traditional values
A presence in the portable audio market since late 2012, UK-based Audio Dynamix Ltd have chosen to focus primarily on devices incorporating wireless technology. Despite their emphasis on contemporary functionality, the company nevertheless espouse traditional retail values: all Audio Dynamix products are built with reliability in mind, and aim to offer feature-rich products with value-for-money pricing, whilst maintaining the highest audio standards across each product range.
Smooth and elegant presence
Even at first glance the ADX Fusion looks the part; its handsome, uncluttered oblong design has smooth flowing lines which are very easy on the eye. Featuring a protective steel-mesh speaker grille front and back, the ADX has a round-shouldered aluminium enclosure with an elegant sand-blasted finish, and a practical rubber base. A top-mounted control surface has push-button playback controls, with a micro-USB charging connector, aux input and power switch tucked away at the rear.
Audio substance
The Fusion review model has a well-designed audio configuration with twin long-throw Kevlar drivers which are 52mm in diameter. Each is equipped with a Neodymium magnet and rated at 5 watts output. These are supported by two 50-mm passive bass radiators to add substance to the low frequencies, and this hardware is mounted in an air-optimised internal acoustic space. Audio power is supplied by a Class T digital amplifier with excellent transient response to give a polished full-spectrum audio output with plenty of punchy bass character.
Modern connectivity options
The Fusion's Bluetooth 4.0 guarantees enhanced audio streaming, access to apps on the latest tablets and smartphones, and compatibility with NFC one-touch pairing. An aux-input feature connects with non-Bluetooth music sources, and an efficient lithium-ion rechargeable battery gives up to 10 hours of music playback.
Main Features:
Bluetooth 4.0.
NFC one-touch pairing.
Class T digital audio amplifier.
Audio output: 10 watts (2 x 5 watts).
Speakers: 2 x 52mm HQ Kevlar drivers, 2 x passive bass radiators.
Onboard rechargeable battery – 10 hours music playback.
Aux input: 3.5-mm stereo audio.
Built-in microphone for hands-free calling.
ADX Fusion review
The Fusion is a portable wireless Bluetooth speaker system which feels substantial and is solidly built with dual 5-watt speaker drivers. This speaker has a rechargeable lithium-ion battery onboard which gives a very decent 10 hours of music playback time after a charge of just three to four hours. The multi-function push controls on top are easy to access, and there's also a microphone for the equally accessible speakerphone function. Bluetooth version 4.0 is very convenient: pairing is super-quick with a great reliable range and exceptional audio quality. Tracks have a substantial bass presence with plenty of distortion-free volume. For convenience, there's also a line input for your non-Bluetooth music – which is also a useful way of preserving your phone's battery. A well-constructed, good looking speaker at a good price.