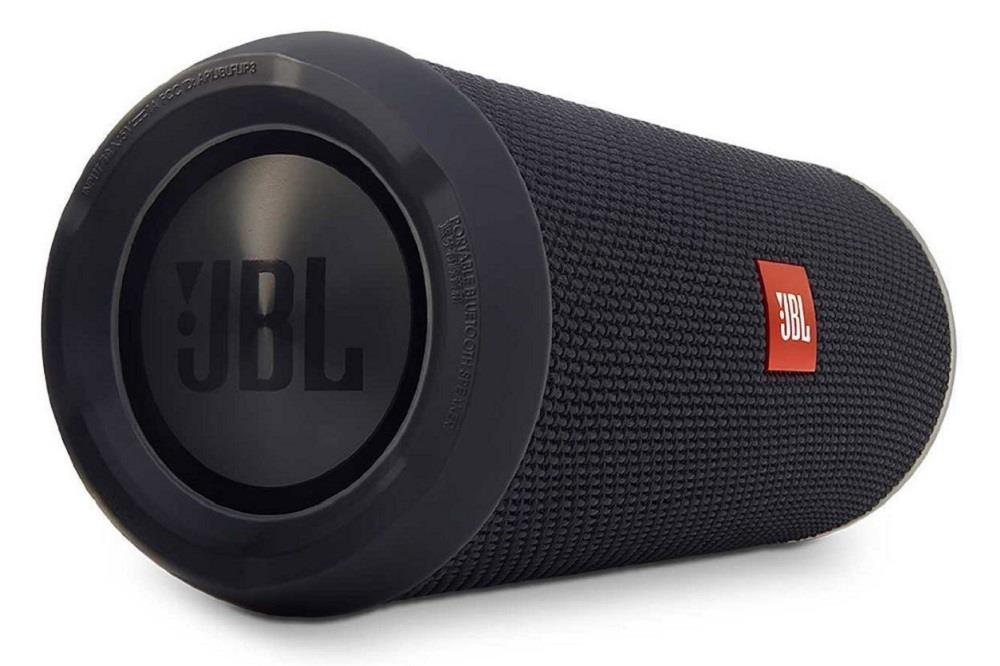 Sing and dance in the rain with JBL's Flip 3 Splashproof Portable Bluetooth Speaker – a high quality speaker that does not rip off your pocket.
Priced below $100, this simple yet powerful speaker gives more expensive portable Bluetooth speakers a run for their money.
Though simple and minimalistic in terms of design, the Flip 3 comes in various colors – black, gray, blue, orange, red, pink, yellow and teal – that are sure fit your personality.
Features
Bluetooth technology that allows wireless connectivity and streaming with up to 3 devices
Noise and echo-cancelling speakerphone that enables you to take clear uninterrupted calls with the touch of a button
Made of splash proof materials that keeps you from worrying about the speaker's functionality even if it gets splashed with water or suffers from liquid spills
Has the patent JBL radiator that gives out the bass that is so characteristic of JBL
Dimensions: 7.5 in x 4.5 in x 3.88 in
Weight: 1.55 lbs
Benefits
If it's sleekness and ruggedness you want, then it's sleekness and ruggedness you get from the JBL Flip 3Splashproof Bluetooth speaker.
But the Flip 3 is not just about the form; it's also about the substance, as it gives quality audio output that is to be expected from any JBL product.
Compact and solid, the Flip 3 has a minimalist cylindrical design wrapped with a single metal wire mesh. The Flip 3 boasts of a very easy to use interface, with the control buttons on the side.
Unlike other Bluetooth speakers that need configuring and setting up before pairing successfully with a Bluetooth device, the Flip 3 starts looking for devices upon powering up and gets connected in a matter of seconds.
The unit also allows for easier pairing with multiple devices – if you're tired of playing music on your iPhone and want to listen to the music on your friend's Android phone, for example, just turn your phone's Bluetooth off and have your friend turn her smartphone's Bluetooth on.
The only thing you have to do is wait for the Flip 3 to recognize the new device and ta-dah! – music that's fresh to your ears. Within a 30-foot range, connectivity poses no problems at all, even without a clear line of site to the device.
The Flip 3's power packs a punch, too. At about 40% volume, you can get up to 10 hours of pure listening pleasure. Of course, the battery does not last as long if the volume is cranked up.
There's nothing to worry about, though, as the unit comes with a Micro-USB charging cable (just note that you have to provide your own adapter).
You can get a full battery after 3 hours of charging. The port where you can attach the USB cable sits right beside the auxiliary input port, both of which are covered by a piece of rubber material as protection against water spills and splashes.
Of course none of the above-mentioned features would matter if not for the quality of audio you can get from the Flip 3, of which is amazing. It has two 1.25 inch drivers, making the audio output clear and vibrant.
The voice parts of songs are very clear and audible, although the bass could benefit from some more depth. However, it fares very well compared to speakers of the same size and price range.
It has the power to fill a room, but sounds a lot better outdoors – where you can adjust the volume to maximum. If you need to fill up the house with music, you can link several pieces of JBL speakers and let them amplify the sound!
Another plus is the fact that no white noise or hissing sounds come from the speaker, even if the volume is cranked up to the maximum. You can never say the same for cheaply made speakers with poor quality.
The Flip 3 can also be used as a speakerphone, although it can pick up a lot of background noise.
However, if used inside a quiet room, it functions exceptionally well.
Aside from the auxiliary port that allows you to plug in non-Bluetooth devices, you can play music on the Flip 3 even without a device thanks to the microSD slot that can store songs, tunes or even audiobooks.
Disadvantages
The port for the Micro-USB can be a tad fiddly and is a bit prone to breakage, which might not matter within the 30-day refund or replacement period, but this could happen further down the line.
Verdict
The JBL's Flip 3 Splashproof Portable Bluetooth Speaker looks good and sounds good, overall. For something that costs around $100, this could be a good deal… if it weren't for the charging port.
What good is a nice-sounding, portable and waterproof speaker if you can't play it because it has no power? Unless you can buy it from the store and check the charging port yourself, we do not suggest getting it.
But maybe JBL has listened to its customers. Maybe it has improved upon the Flip 3's charging ports – who knows? Or maybe, those customers who complained about the broken ports were just an unfortunate few.
If you don't mind a bit of a gamble and can spare a hundred dollars, then go ahead. Indulge yourself. You might get lucky and end up with a Flip 3 unit that gives you real value for your money.