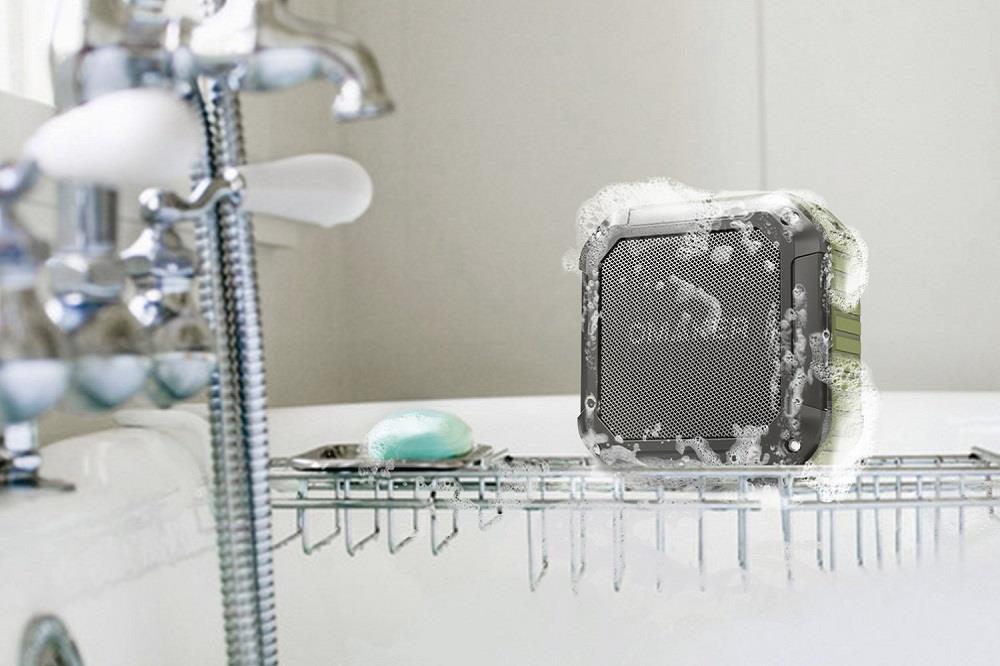 If you like taking a bath or shower with your music on, well you've got a friend in the Omaker M4 Portable Bluetooth 4.0 Speaker.
Why do you need a speaker in the shower? Basically because you love music; and what could be better than a refreshing shower or a relaxing soak in the tub while your favorite songs are playing?
Better yet, how about watching an episode of your favorite series while you are enjoying a bubble bath on a Friday night, champagne in hand?
Aside from being a wonderful shower or bathtub companion, you can also take the M4 anywhere within the house – in the kitchen while you're cooking, in the garden while you are pottering with your houseplants, or further afield on bike rides, picnics, or even strolls around the neighborhood.
With its small size, the speaker easily fits in the palm of your hand; plus, you do not have to treat it like sensitive high-end speakers because its durable hard plastic casing means it endures drops, shocks and bumps.
All these features allow you to enjoy your music while you are on the go.
Features
Rugged and durable outdoor speaker with an Ingress Protection of IP54 to prevent against shocks, drops, dust and water splashes and spills
Distinct, full and rich sound delivered through a passive subwoofer and a 3W audio driver
Latest Bluetooth 4.0 technology that allows for speedy pairing and NFC technology for easy tap-to-pair connection with NFC-enabled devices
Dimensions: 1.8 in x 3.2 in. x 3.2 in
Weight: 0.7 lbs
Comes in two colors: army green and orange
Warranty: 1 year
Benefits:
The Omaker M4 is an impressive portable speaker for something its size and price.
For starters, the M4 is designed for rugged use – whether outdoors or in the shower. Made with a non-slid durable plastic material and a rubber ring around it designed for effortless gripping, the M4 is lightweight and easily fits in the hand.
The speaker features a no-fuss, minimalistic design that complements its no-nonsense functionality: to deliver amazing music. What more can you ask for with a small speaker that produces robust bass and treble as clear as day?
The impressive sound quality also comes with volume that you can hear through running water and the shower curtain; you can even hear your music clearly even if the speaker is in the next room.
And because it has a high IP rating of IP54, you can be sure that it is protected from water splashes, dirt and shock.
In fact, you can use it not just in the shower, but outdoors as well – whether you are going camping, visiting the beach, having a Sunday barbecue, or even going kayaking. Note, however, that the speaker is splash and water-resistant, not waterproof.
Unlike most shower speakers that have a suction cup at the bottom, the M4 comes with a hard-wearing lanyard that you can attach to the speaker and hang on a bathroom peg, or tote around by hanging on your wrist, leaving your hands free to carry something else.
Pairing the M4 with your Bluetooth device is a breeze, allowing you to connect within seconds, up to a range of 33 feet, provided that the music source is stationary.
The unit also features NFC technology, so if you have an NFC-enabled music player or device, you can also connect it to the M4 and enjoy your favorite tunes. Of course, NFC pairing requires putting your device very close to the speaker.
On top of the unit, you can find the power button, the call answer button (yes, it supports voice commands so you can make calls even when you are in the shower, or maybe talk to Siri just for the heck of it) and the volume buttons.
Pressing and holding the Volume Up button will allow you to increase the volume, while short pressing allows you to skip to the next track, Similarly, holding down the Volume Down button enables you to decrease the volume, while a short press brings you to the previous track.
On the side of the M4 you can find the Micro USB port used for charging and software updates, the auxiliary input port in case you want to play music from non-NFC or non-Bluetooth devices and the reset button in case you want to, well, reset the unit for any reason.
Equipped with a 1,500mAh battery, the M4 can bring you 12 hours of non-stop listening pleasure at 80% of its volume (and trust us, 80% is more than enough volume), making it a good companion wherever you might be headed.
It also charges pretty quickly, taking just 3 to 4 hours – which is a real dealmaker.
Disadvantages
Despite the positive points of the Omaker M4, not everyone is satisfied with it.
Some customers find themselves wanting more from the speaker – better sound or longer battery life.
The good thing about this is that Omaker, the manufacturer of the M4 Bluetooth 4.0 unit, is very responsive to its customers, offering options to customers who encounter issues with their devices – of course, within the manufacturer's terms and conditions.
Verdict
Priced below $100, the Omaker M4 Portable Bluetooth Speaker is a good steal. It provides value beyond what you pay for it. You get full-range music from a compact, lightweight and rugged speaker that is easy to acquire and maintain.