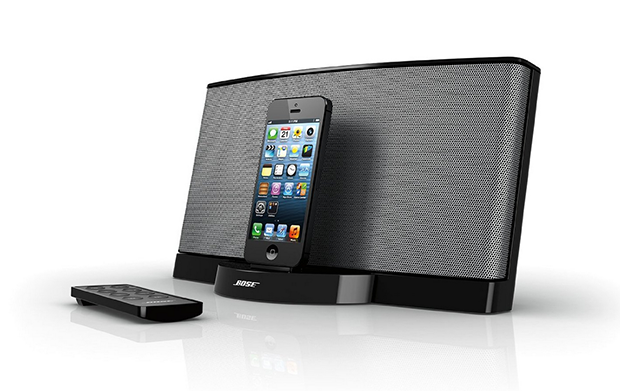 5 of the Best iPhone 5 Speaker Docks
At last you've got your hands on the new iPhone 5, so now you're looking at other devices and accessories to help you get the best from your purchase. Given the iPhone 5′s great music-streaming capabilities, perhaps now is the time to think about a compatible iPhone 5 speaker dock to upgrade your personal music facilities and take full advantage of the iPhone 5′s onboard functionality. The Lightning connector is now a more common feature on new devices in the Apple range, which makes it easier to source a speaker dock for iPhone 5 capable of not only playing your music but also charging your phone. Here are five of the best iPhone 5 speaker docks currently available:
iLuv Aud5 Lightening Speaker Dock
The iLuv Aud5 is another device from iLuv Creative Technology offering Lightning speaker dock facilities for the iPhone 5. As such, it will of course charge the iPhone 5 effortlessly – via a simple front-mounted charging tray – whilst simultaneously providing premium audio playback features, and will continue the phone charging operation even when the speaker function is turned off. Looking sleek, stylish and modern, the Aud5 benefits from two passive bass radiators, operating alongside a further two active full-range speaker drivers.
This configuration is driven by a high-calibre digital amplifier which delivers a smooth, clear audio performance. The overall sound is warm and full, with a crisp treble presence and clean mid-range, plus a surprisingly rich bass delivering plenty of punch and attack whenever this is a feature of the source music track. The system control panel on this iPhone 5 speaker dock is located on the top of the speaker, and the simple control interface gives access to a power button, plus rewind, fast forward, volume and play/pause functions.
Bose SoundDock Series III
The diminutive Bose SoundDock Series III digital music system is a Lightning speaker dock from one of the major players in the mobile audio world. This offering from the renowned Bose stable is equipped with the trademark Bose onboard digital processing system and acoustic design features responsible for the hi-fi excellence sought by music fans everywhere who value the consistence and clarity of its audio performance.
It will, of course, charge your iPhone 5 when connected to the dock, but the SoundDock will continue to effortlessly stream and play back your audio during the process. Bose provide a handy remote control offering easy access to many system features, allowing you to customise your listening volume, switch between music tracks, and navigate through your iPhone playlists. The SoundDock comes in a range of five stylish and arresting colours: black, blue, purple, orange and green. Consequently, as a Bose SoundDock owner, you are unlikely to go entirely unnoticed.
iLuv Aud3 Lightning Speaker Dock
Featuring a design which highlights sleek curves, the iLuv Aud3 looks just as impressive as it sounds. This iPhone 5s speaker dock, which is also compatible with the iPhone 5, features jAura technology which enables the delivery of well-balanced full spectrum digital audio. Passive radiators are deployed to shape the ultra-low bass frequencies, whilst the Aud3′s full-range dual active 9-watt speaker drivers lend considerable bass-enhancement too.
In addition, iLuv's acoustic engineers have fine-tuned the enclosure's internal acoustic space, adding sound chambers to further define and boost the audio waves. As a result, the Aud3 does full acoustic justice to any style or genre of music you may wish to enjoy whilst it is charging your iPhone. To control your music, the Aud3 has a top-mounted interface allowing access to volume, track change, pause and play functions, which can also be adjusted via a convenient remote control. And, to allow access to music from non-Bluetooth devices, the Aud3 also features a 3.5-mm stereo aux input.
KitSound Fresh Clock Radio Docking Station
Capable of delivering a massive sound for its size, the multifunctional KitSound Fresh has a Lightning connector allowing it to function as an iPhone 5s speaker dock, which also accommodates charging of the iPhone 5 too. This versatile speaker also features an onboard FM radio which permits storage of up to ten of your favourite FM stations, and also has a sleep/snooze alarm function to rouse you from sleep, either to the sound of a buzzer or else via a user-friendly selection of your chosen iTunes tracks.
Driven by dual 5-watt speaker drivers and a bass radiator, which are jointly responsible for its big sound, the KitSound Fresh has a retro design – for example, housing the lightning connector in an ejecting drawer modelled on old school tape players. The unit also has a 3.5-mm stereo aux input to accommodate music input from non-Bluetooth devices.
JBL OnBeat Venue
The JBL OnBeat entertainment system is a sleek, compact and stylish wireless speaker which is Lightning- connector-equipped and has been designed to 'bring you the best from your iOS devices'. With this speaker dock for iPhone 5, in addition to charging your iPhone and listening to your music, you can also enjoy wireless gaming and watch movies.
The famous JBL high-definition sound sets the standards for audio quality, and Bluetooth streaming and connectivity has been considerably enhanced by the addition of HARMAN TrueStream technology to handle, and guarantee, superior audio-streaming performance. For further content enrichment, the JBL OnBeat can be cable-connected to a smart TV in order to enjoy your movies and images in high definition on a large screen. The JBL MusicFlow app, available as a free download, unlocks further control features when using the OnBeat speaker dock. With MusicFlow you can view album artwork, assemble playlists, and access audio mixing and editing functions to further customise your JBL audio experience.
Summing up
These iphone 5 speaker docks are among the best in the business for sound quality and performance, each has its own strong points and they all feature the latest Lightning connection for full compatibility with the iphone 5/5S/5C range of products.
5 of the Best iPhone 5 Speaker Docks