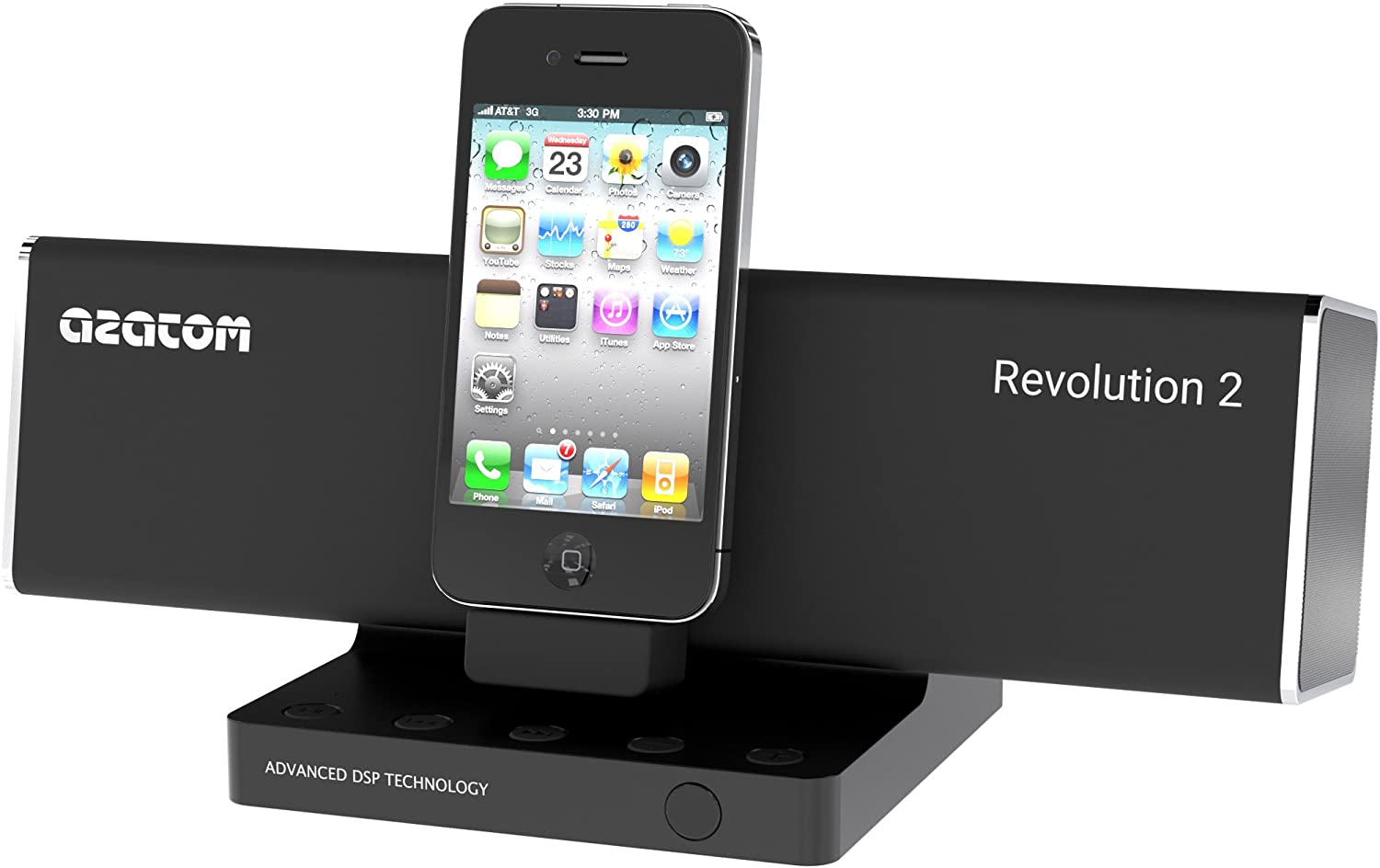 Azatom Revolution Docking Station Review
The Azatom Revolution docking station offers top-notch digital audio technology rivalling the configurations of more expensive products. Its on-board Azatom advanced DSP chipset, teamed with a high-quality digital amplifier, gives this Azatom docking station a classy sound. With Apple device connectivity and a widescreen video option, the Azatom Revolution is a great value-for-money choice.
Audio forged in the UK
Azatom are a fast-growing UK technology company with a strong track record in digital audio. A considerable part of their success is due to extensive use of 'in-house' components such as Azatom DSP microchips, and technologies such as Azatom Airflow. These features are combined with home-grown designs, and comprehensive studio testing and tuning, to develop, enhance and refine their products. As a result, many Azatom speaker systems and other products offer performance characteristics which rival, or exceed, the quality of higher-grade audio equipment.
Contemporary design
Crafted from solid aluminium and finished with a heavy-duty scratch-resistant coating and silver-chrome trim, the Azatom Revolution docking station looks efficient, functional, and contemporary. Designed for convenience and performance, the 90-degree rotate feature facilitates widescreen video viewing, and the horizontal-tube profile maximises the available audio soundstage. Similarly, the supplied remote with full menu functionality for docked iPhones and iPods is yet another practical addition. At 285 mm high, 100 mm wide and 135 mm deep, the Azatom Revolution will suit any interior environment.
Top-class audio
Cleverly designed to offer a broader soundstage, the Azatom Revolution docking station produces a bigger sound than expected, whilst its Azatom-designed DSP (Digital Sound Processing) chipset boosts both bass and mid-range frequencies to enhance audio performance. Driven by a high-quality (Class D) 40-watt digital amplifier, the Azatom
Revolution's two speakers – designed for a broad frequency response – can deliver a top-class audio performance of remarkable undistorted power and clarity, despite their modest 70-mm speaker-cones.
Apple core functions, and more
The Azatom Revolution docking station is fully compatible with Apple iPhone and iPod products, though the very latest models – the iPod Touch 5G, iPod Nano 7G and iPhone 5 – require Apple's Lightning-to-30-pin adaptor for full connective compatibility. In addition to the Revolution's on-board controls, a supplied remote control allows access to iPod and iPhone menus for easy music play and Azatom have also fitted the docking station with audio in/out connections for hooking up non-Apple phones and older music players.
Main Features:
iPhone/iPod compatible.
Digital Sound Processing (DSP chipset).
Speakers: 2 x 70 mm.
Speaker Power: 40 watts.
Video widescreen view mode.
Remote control.
Included: mains adapter, manual, 3.5mm audio cable, remote control.
Line in/out: 3.5mm stereo audio.
Azatom Revolution review
At the price I was just expecting reasonable volume levels and build quality, but boy was I taken by surprise! The build quality is really something – very well-built and solid. The metal in the main tube adds a feeling of weight and substance, and, with a strong connector, there are no worries about inserting the iPod at wrong angle and damaging it.
Very impressed with this Azatom Revolution dock; the speaker drivers are amazing and the audio quality is a really clear, clean and crisp sound, with a solid bass too, and well above what you might expect for the price, and for a unit of this size. It's surprisingly powerful too. With the included remote, you get all the control you need over the iPod in normal use. A very welcome inclusion. All in all I'm very happy; and if you buy one, you will not be disappointed!