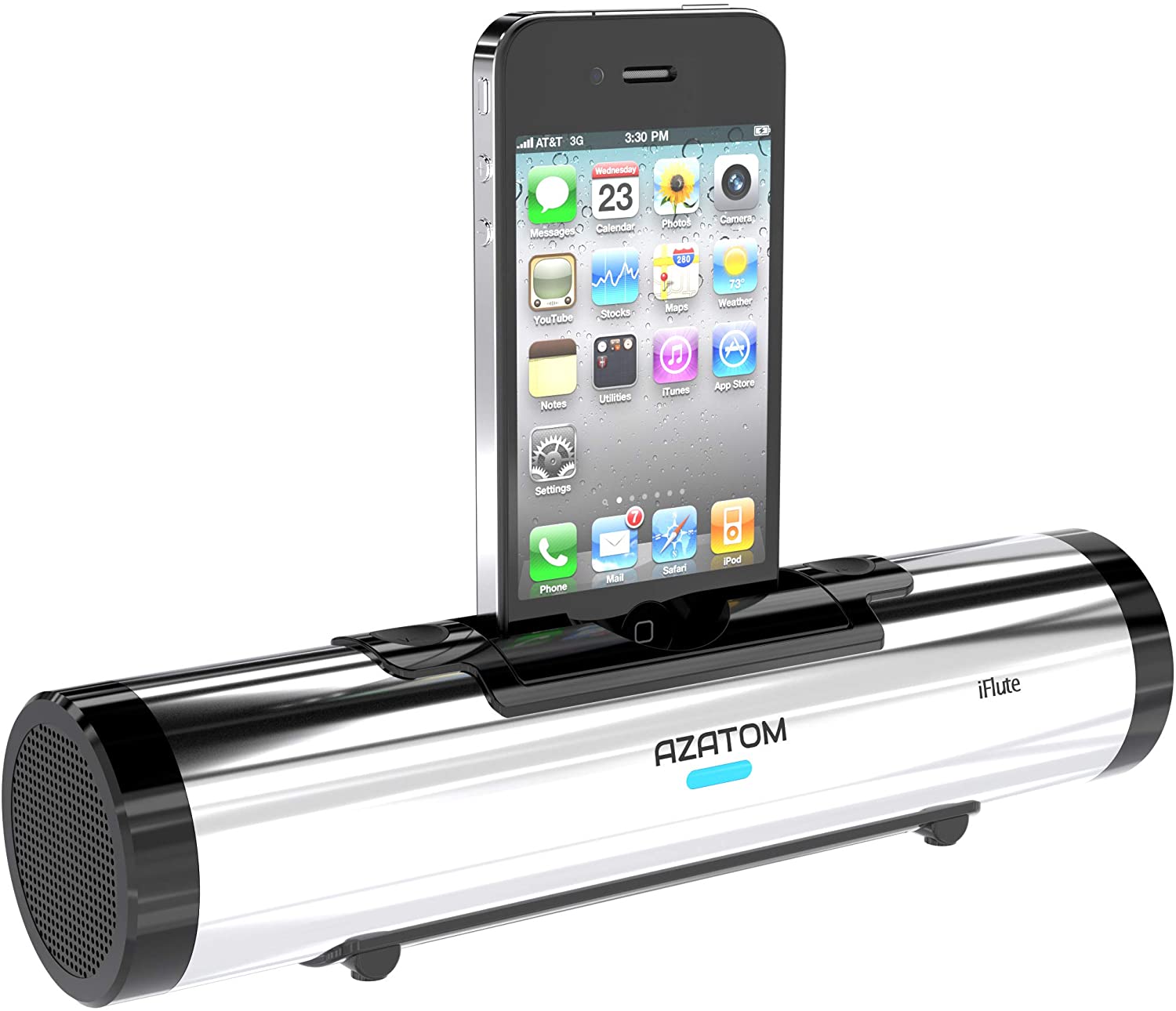 Azatom iflute Review
A British-designed product, the stylish Azatom iFlute docking station offers amazing audio quality at a stunning price. Using many of their own high-quality components, Azatom have given the iFlute docking station an incredibly powerful and detailed sound for an ultra-compact speaker. As the ultimate go-anywhere choice, the Azatom iFlute has three power options, four colour options, and offers great home or holiday convenience.
UK music technology
Azatom are UK-based digital specialists who design partner products for phones, tablets and other digital media ' to give people greater freedom and enjoyment from their devices'. With a particular focus on innovative technologies, Azatom has already brought a number of its own exciting, cutting-edge approaches to the market with great success. For example, Azatom have developed their own in-house DSP (Digital Sound Processing) chips, giving their customers products with a superior sound quality which 'exceeds expectations'.
Style and impact
With its eye-catching and truly original design, the Azatom iFlute docking station features a solid aluminium chassis with a solid, scratch-resistant gloss trim and finish. The sleek and tubular Azatom iFlute, which is 19.5 cm long and 4.5 cm in diameter, looks superbly functional and is available in pink, silver, purple, or black, giving buyers ample scope to create their own style statements.
3D soundstage
Supplying a total power output of 10 watts, the iFlute docking station creates its own 3D soundstage using Azatom's proprietary technology to introduce much greater air movement, via its two 40 mm drivers, than would normally occur within and around such a small sound enclosure. This both creates a broader 'stereo effect' and generates more bass frequency detail.
Connectivity options
The Azatom iFlute docking station is compatible with the iPhone (up to 4S), iPod Classic (all models), iPod Touch (up to 6th generation), and iPod nano (up to 5th generation). Where necessary, full compatibility with later models can be achieved with Apple's Lightning-to-30-pin adaptor. A 3.5 mm aux-input allows the iFlute docking station to access non-Apple media players and phones too.
Main Features:
Power output: digital amplifier, 10 watts.
Speakers: 2 x 40 mm drivers.
Frequency response: 120Hz to 18 kHz.
Input: Apple 30-pin dock connector.
Power options: mains, USB or battery.
Aux input: 3.5mm stereo audio.
Aux output: 3.5mm stereo audio.
Included: 3.5 mm audio cable, USB cable, instructions.
Azatom iFlute review
After reading good reviews of this Azatom product, I decided to try it out. I was sceptical at first because I knew nothing about the brand. As soon as I opened the box, the build quality changed my mind. Despite the great price, it does not feel or look cheap at all. It seems solid and compact, and looks really neat on my desk. When it came to sound quality, I became even more impressed. I did some testing with different music styles and all played back with a clean crisp sound, and no trace of anything tinny.
The Azatom iFlute still sounds great when the sound level is wound up. I was pleasantly surprised just how loud this little unit can get without distortion. The volume controls on the product work fine, as does the remote, and it's a very simple setup routine. Whilst in use, it will even recharge your phone – what else could you want? A great buy for a great price. Recommended without hesitation!