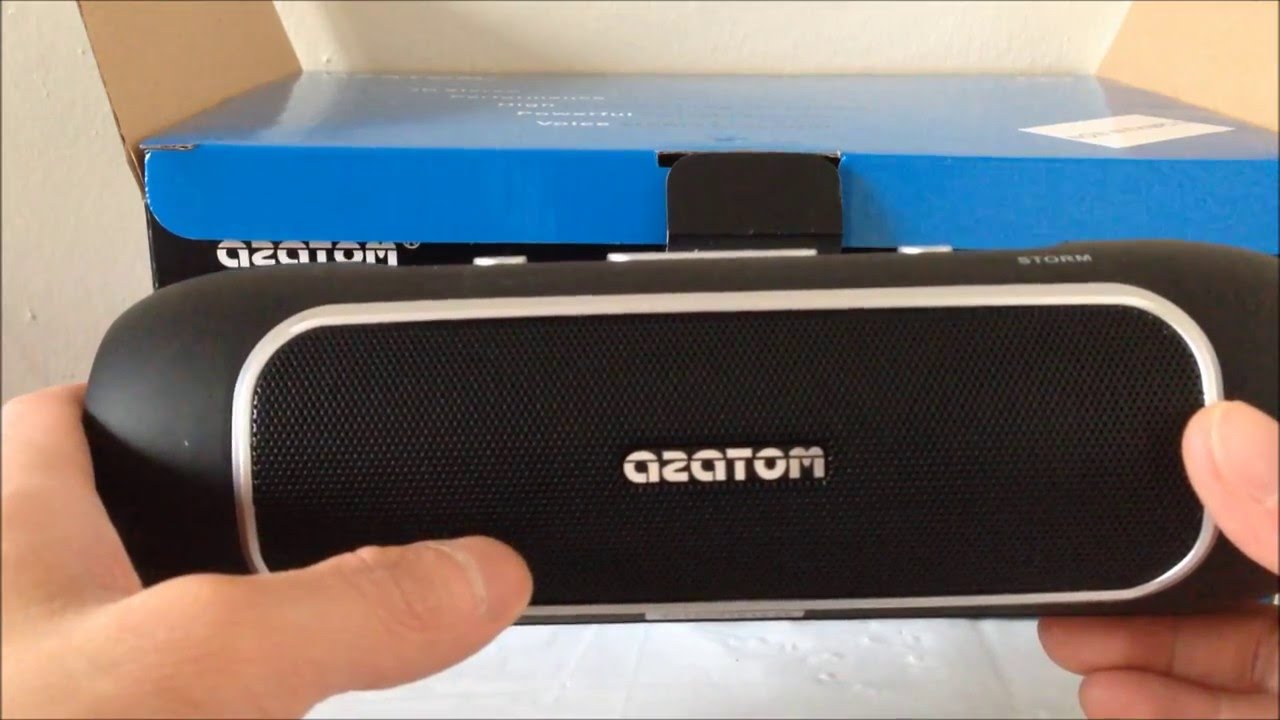 Featuring the latest Bluetooth technology for maximum audio streaming compatibility, the Azatom Storm Bluetooth speaker is the perfect portable audio speaker for all occasions and any location. Any smartphone, tablet or laptop can now deliver amazing wireless audio with an audio quality once deemed impossible on portable audio platforms. Step up to the Storm to take your portable audio experience to the next level.
Audio innovation in the UK
UK-based Azatom are a fast-growing technology outfit from the North-East of England producing creatively designed speaker systems and premium partner products for the digital smartphones and tablets which are fast becoming the new media hubs of our modern lives. Azatom's unique, proprietary technology focuses on digital sound processing and audio airflow technology to design acoustic spaces with optimum audio characteristics. Overseeing the design, testing and manufacturing process from start to finish, Azatom aim to turn out 'class-leading products'.
The perfect Storm
Sleek portable audio devices don't look this good by accident. The all-black Storm features an aesthetically pleasing arrangement of rounded curves which just demand a second glance. The front position has a black speaker grille protecting the drivers, the edges of which are tastefully defined by a silver border. The company logo is centred, with a further 'Storm' logo above and to the right. The slim top section carries a narrow control panel, and the Storm's connectors are recessed on a plain back panel. The exterior design is completed by two smaller side grilles, also in black, accommodating its twin bass ports.
Audio technology for today
The Azatom Storm review model utilises Azatom's own Airflow technology which shapes and optimises the audio airflow within the Storm's acoustic enclosure. Two large full-range 52mm active speaker drivers are driven by a high-quality class D digital amplifier, and this configuration also benefits from the addition of two sub-woofers which add extra bass resonance to the audio. As a result, the Storm delivers outstanding audio clarity and tone right across the audio spectrum with a smooth, powerful bass presence.
Stay connected
The Storm comes equipped with Bluetooth 4.0 CRS technology to guarantee you get to access the latest audio-streaming features on all smartphones, tablets and laptops. Wireless audio quality is optimised and Bluetooth connections remain rock steady so you can enjoy your favourite tracks to the full.
Main Features
Bluetooth: Latest 4.0 CSR Module
Amplifier: Class D Digital Amplifier
Audio Output: 24 Watts.
Speakers: 2 x 52mm Active XL Drivers, 2 x Passive Sub-woofers.
Frequency response: 150Hz – 18kHz.
Aux input: 3.5mm stereo audio.
Built-in Rechargeable Battery.
Charging Time: 3 – 8 Hours for full-charge.
Azatom Storm review
Just received this Azatom Storm Bluetooth speaker for myself and very pleased with the smart look. The sound quality is also way beyond what I was expecting for a portable product of this price. Along with its great Bluetooth connectivity, this is an ideal product for music fans who want to take a great sound along wherever they go. The sound is just incredibly loud at maximum volume, and it's also very easy to recharge. The Azatom Storm really does create its own storm via the impressive audio quality. This fantastic little speaker is an excellent quality product and highly recommended – buy one, and you won't be disappointed.