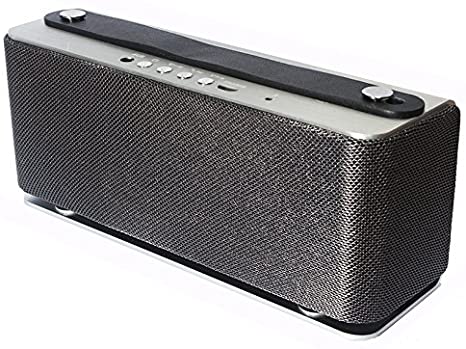 The Audio Dynamix Atom V2 is a major upgrade of the much acclaimed X05-Atom. Though you'll still recognise the familiar enclosure, the 'under the bonnet' revamp brings even more battery life, vastly improved audio streaming, and beefed-up speaker drivers delivering more power and more bass. If the original X05-Atom was able to kick sand in the face of its more illustrious rivals, just imagine where your music can go with the new Atom V2!
Portable audio in the UK
Devon-based Audio Dynamix Ltd was founded in the autumn of 2012, and has concentrated on a new range of portable audio devices featuring wireless technology. The company design and build products which focus on reliability and achieving the best possible audio performance in each product category. Their innovative designs incorporate current and future features and functionality, backed by a competitive pricing policy.
Proven design
For the Atom V2 review model, Audio Dynamix have chosen to stick with their neat and stylish aluminium enclosure. Though measuring just 186 x 54 x 82 millimetres, the smooth wrap-around honeycombed speaker grille is easy on the eye, and a brushed aluminium strip on the top both defines and strengthens the structure. This provides a convenient location for the controls which incorporate spun-aluminium buttons, a material also used to anchor the faux leather carry strap with its maker's logo. The plain back of the enclosure features brushed aluminium with a delicate silk-printed logo and product ID.
Audio proficiency
Audio Dynamix have expanded the audio capabilities of the Atom V2, increasing its power rating by 66 percent and adding more powerful redesigned speakers. The larger dual drivers now have rugged kevlar diaphragms, new voice coils and ultra-powerful neodymium magnets. Coupled with a bass radiator, this new rig gives superb bass reproduction together with improved clarity and definition across the full audio range.
Contemporary connectivity
The Audio Dynamix Atom V2 comes equipped with Bluetooth v4.0, allowing communication with the latest smart phone apps to control and enhance speaker performance, and APT-X, which delivers CD-quality audio streaming. These new features boost audio performance and allow crystal clear hands-free calling. Battery performance has been increased to 25 hours – this too can be monitored via a phone display. A Dual Power Mode for simultaneous playback and battery charging completes this comprehensive feature upgrade.
Main Features:
3000mAh lithium polymer rechargeable battery, 25-hour music playback.
Dual Mode Power Supply.
Bluetooth V4.0 with APT-X.
Audio output: 2 x 5 watts
Speakers: 2 x 50 mm full-range drivers, 1 x 100 mm passive bass radiator.
Frequency response: 32hz to 20Khz
Hands-free calls.
Audio Dynamix Atom V2 review
The sound is clear and full right across the frequency spectrum. You will need to crank up the volume to get really great bass, but it's worth the effort and the Atom has plenty of gain anyway. Placing the speaker close to a wall or on a solid surface also helps boost the bass, and all styles of music sound equally good. In the interests of getting the very best sounds, I have also used a phone app to provide graphic equalisation. As Audio Dynamix predicted, this really enhances the audio. Bluetooth is easy to set up and has a decent range. The Atom V2 is everything you need in a portable Bluetooth speaker: great volume and audio quality, excellent battery life, well built and excellent value