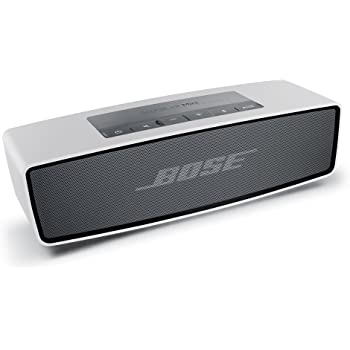 The Bose SoundLink Mini Bluetooth Speaker is a $190 sound unit that offers a compact wireless experience with the ability to connect to your Bluetooth device. This portable unit is made for use anywhere in or outside your home, and the following review will outline the ups and downs of this unit to help you decide if it is worth the buy.
The Bose SoundLink Mini Bluetooth Speaker brings the pure sound of BOSE into a small, portable speaker that can fit anywhere.
One upside of this product is its tight sound and performance. When compared to the Bose SoundLink II, the quality of the sound is actually crisper and the bass is much clearer. This is surprising considering the size of this unit compared to the SoundLink II, but is really just testament to the quality of the unit. It is ideal for using in conjunction with your laptop or for smaller sized home theater systems that need a bit of extra sound. Additionally, the battery life ranges up to 7 hours, giving you plenty of time to use your Bose SoundLink Mini at get-togethers and parties.
The Bose SoundLink Mini Bluetooth Speaker is rated 5 out of 5 Stars by 1790 verified buyers on Amazon.com. See all reviews here.
One downside of this device is that when the charger is not connected to the speaker it sometimes emits a hissing sound. Although this is a minor gripe, it can be very annoying for those who are picky. Another downside is the grill, which is very easily scratched. Additionally, the edges of the grill are very sharp and easy to get bumped and misshapen. A case for this unit is highly recommended, although it is not included in the package and must be purchased separately. Ultimately, although the overall unit itself is very solid and well-made, the sensitivity of the grill is a bit of a letdown and brings down the durability of the unit for those who are like to keep their speakers looking pristine.
Ultimately, the Bose SoundLink Mini Bluetooth Speaker is a great quality, compact unit that gives you a lot of bang for your buck. However, it will likely not be suitable for larger, more expensive home theater setups. If this is the kind of setup you are going for, you will need to invest a bit more money into a larger unit. However, for those creating a casual home electronics system for use with your laptop or in your garden, the Bose SoundLink Mini is a great buy. Check out our Wireless Garden Options article for more information on how to setup your own wireless home garden.